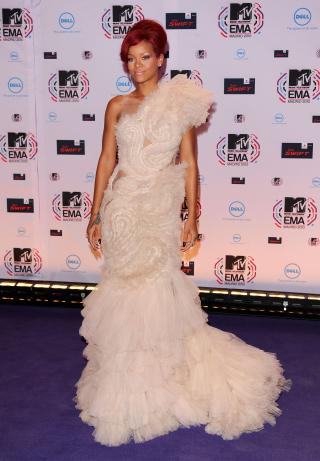 One fabulous frock to walk down the MTV Europe Music Award's purple carpet on Sunday was a floor length Marchesa gown, and of course, it needed someone equally spectacular to wear it.
There's no denying it, the dress does look slightly wedding-ready on Rihanna, but that's not to say the Barbadian beauty has anything of the sort on her mind.
The overpowering cream ruffles and pearly white swirls may have been too much to handle for most, but not ol' Rhianna – her flame red hair and feisty attitude allows her to pull off even the most daring of dresses.
And the extravagant fish tail and accentuated one-shoulder detailing meant the singing soulstress looked truly elegant on the nigh t- heck, why does Madrid get all the fashionable fun, eh?
Oh well, there's always next year…