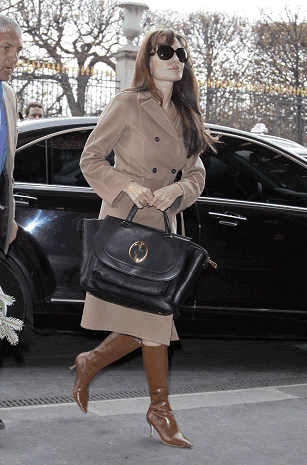 Whilst attending a press event in Paris last week for her latest film, The Tourist, Angelina Jolie was spotted wearing a coveted 1973 Gucci handbag on her arrival.
And the bag's gathered somewhat of a high status celebrity following recently, let us tell you, with the likes of Madonna, Jennifer Lopez and Penelope Cruz all carrying this latest piece of arm candy.
Frida Giannini, the luxury label's creative director, took a look back into the brand's 1973 fashion archive to source a little sartorial inspiration for this new and exclusive collection of handbags – after all, everyone loves a revamped classic.
But though this black leather top handle tote is undeniably feminine (well, it's big enough for all our womanly essentials), it doesn't really scream out to us.
We love its minimalist design, and it may be extremely well-crafted to last you a lifetime, but if we were going to splash some serious cash on a Gucci garment – or otherwise – we'd want the whole world to know about it. After all, a bit of fashion flashing doesn't go a-miss…