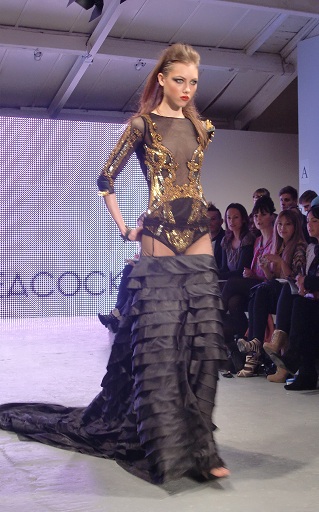 Who: Fulguni & Shane Peacock
What: Glam-goth, bondage tendancies, leather and decadent gold embellishment
Thoughts: The party week really got started at the Fulguni & Shane Peacock autumn/winter show, where punk rockers and gothics alike were taken out clubbing to grind to dirty house. Bondage elements were carried over from last season's collection, with prominent leather piping and biker jackets with leafy gold embellishment taking centre stage. Craftsmanship was rife in all of the garments – red and black graphic prints were layered with both crochet and mesh, creating a messy yet uncomplicated feel.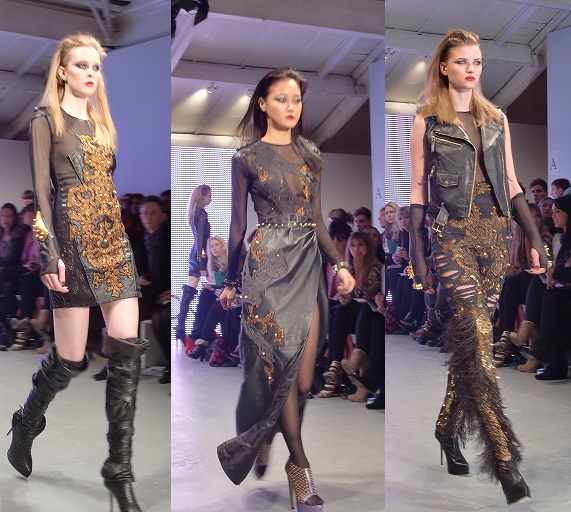 Models conveyed an edgy and angst-ridden demeanour and, adorned in ripped fishnets, metal spike bracelets and towering domed platforms, they looked every bit the provocative part. Appliqués, rivets and sequins brought fitting mini dresses to life and the use of the odd feather helped retain a slice of the sweet.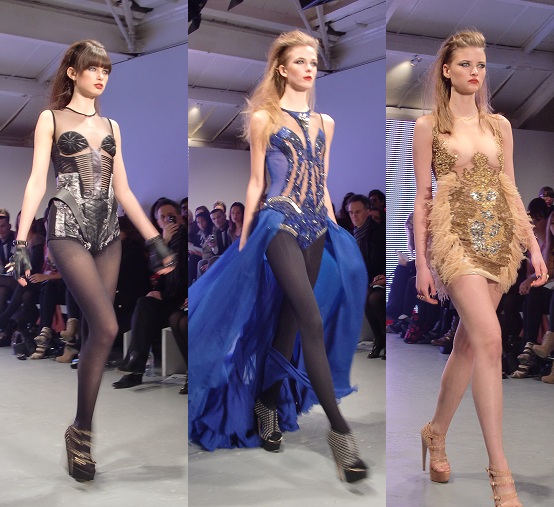 Favourites would have to be a billowing teal blue mullet dress complete with body con upper sparkle; a nude voluminous gown with textured gathering, structural shoulder and hip add-ons and an elegant mesh trail; and the devilish soft jumpsuit, hardened by a splash of metallic baroque.
Atmospheric excitement resonated at the end of yesterday's show with a crowd left ready to take on the world sporting kinky knee high leather boots and saucy red eye shadow.