What: Dalmation spots, polka dots and a Thirties Cruella De Ville.
Thoughts: It's cool to be cruel – or Cruella, more specifically – according to Unique next season.
With dalmation spots and dog barks, the British brand's autumn/winter 2011 collection takes inspiration from 1930's America, where elegance is exuberant, refined but ultra-modern, too. Surprisingly – and unlike previous seasons – its also incredibly wearable.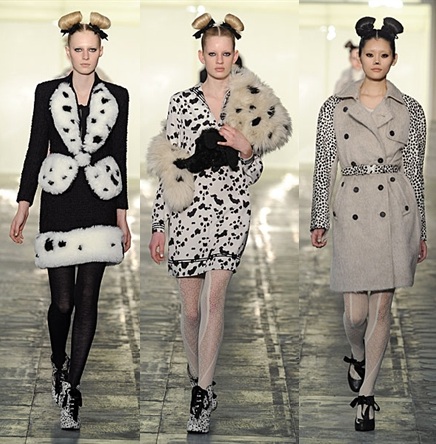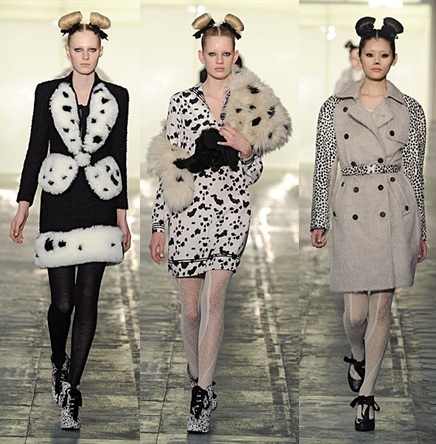 Prints are big and bold – especially dog prints seen on clutches and clasps of belts or automobiles on shoes – and structure adds an architectural feel reminiscent of the Art Deco era, whether in stiff and twisted dresses, refined tailoring or sky-scraper prints on blouses.
Fur forms a sumptuous strong point, seen on oversized monochrome coats, hems of dresses and oversized collars for De Ville-like depth and impact. Dresses for the most part fall mid-length and flowing – save for a structured sweetheart mini covered in jet black glitter – and trousers come loosely tailored or slouchy and pyjama-like.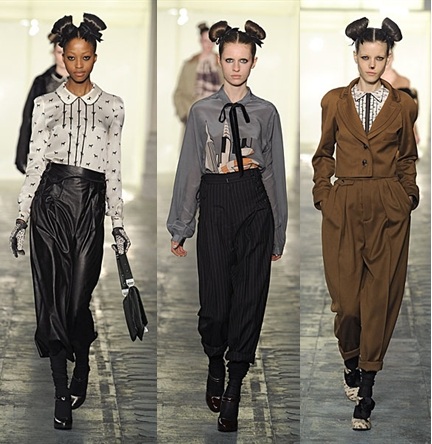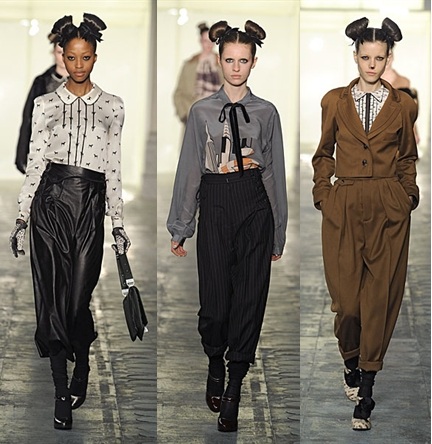 But among the decadence, Unique's collection has room for softness too, with pretty-printed sheer chiffon blouses, crushed velvet, lurex and hints of tobacco. Elegant it is, but it's also laced with fun – models' hair is shaped into Minnie Mouse style ears and some wear black-tipped noses.
Especially strong in a finale where all models storm the runway at once, Unique's collection for autumn/winter 2011 is among our favourites to date from the label – ask Anna Wintour, sitting front row – helped by Katie Grand's spot-on styling.