Last Updated on 19th October 2013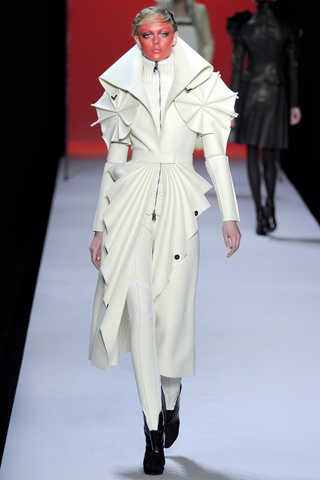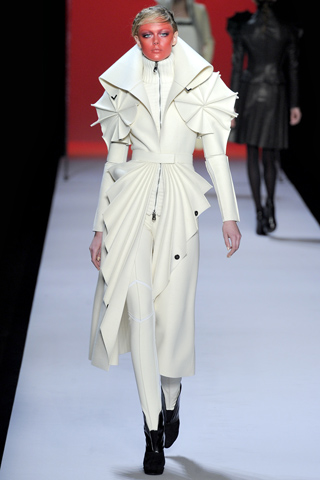 Sometimes, especially as spring approaches, we might be tempted by a little tan. And sometimes, when we're sick of being really good, we like to be a little bit cheeky. But never, not even at Halloween, do we like to look like we've been spawned from a sun-burnt devil.
But it would seem Viktor & Rolf would like us to embrace a look that's part sunbed scare, part devil defiance next season – and we for one aren't buying it.
A structured fan-pleated coat? Well, if you remove the umbrellas from the shoulder we'll take its fierce tailoring any day. But you want us to wear a zipped polo and dip-dye our faces red? Come on.
Apparently the "blank canvasing" is a ploy to get us looking closer at the impeccable tailoring, but we're all too consumed by the fact this model looks about ready to explode, whether by means of over-heating, anger, spontaneous combustion or all three.
We do, however, totally expect Lady Gaga to rock this check-me-I'm-a-cool-angel-with-a-sharp-structured-white-coat- but-look-I'm-also-a-devil-with-dark-eyes-and-a-red-face-too look on a stage near you very soon.
Suffice to say we're not heading for a spray tan any time soon, but we might throw on Angels & Demons this afternoon for good measure.
What do you think of this look from Viktor & Rolf's autumn/winter 2011 collection? Do you think it's an arty statement or just plain pretentious? Let us know your thoughts below.
[poll id="50″]