In between the mad be-hatted, this year's Royal Ascot did open its grounds to quite the fashionable crowd who, with their heels sinking into mud splashes, still managed to slam it in the style stakes.
You'll probably be as surprised by who wore our favourite look as us, but let's get real, Holly Valance totally killed it at the grounds last weekend.
There's nothing new about a little black dress, but there's also nothing as chic and classic when it's done properly, and Holly's black Roland Mouret Giselle dress is, of course, a masterpiece.
Sculpted to fit her new-found curves with folded structured shoulders and pleated front, we love Holly's super slick Fifties style, finished with glitter Louboutins, an Hermes bag and cat eye sunglasses.
Sure, you could go and buy the same Roland Mouret dress – it's currently in the sale at Browns for £995 £495 – but what would you say if we told you you could hire a similar style for a fraction of the cost?
Say hello to Girl Meets Dress. With an ever-growing selection of the hottest designer dresses ready for hire from £24, it's like raiding your best friend's wardrobe for drop-dead gorgeous garbs that fit every occasion. And it makes perfect sense: why spend a small fortune on a dress when you're only going to wear it once? Frankly, it's the simplest, cleverest way to wear countless must-have pieces without paying your month's mortgage.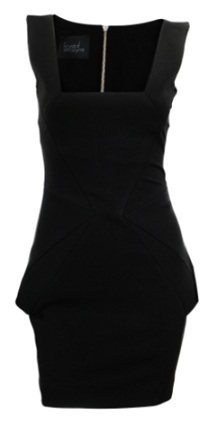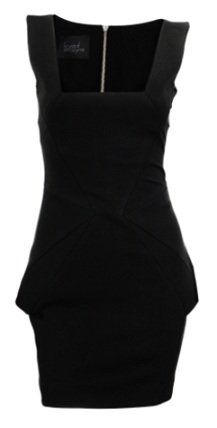 We've had a rummage and fallen in love with Krystof Strozyna's black peplum dress. Its sleeveless design, scultped shape and curve-enhancing peplum skirt will have you looking as hot as Holly in no time.
Krystof Strozyna black peplum dress, £49 for two nights/£59 for seven nights, (RRP £850), available at Girl Meets Dress. HIRE NOW!
Well, if Cinderella made it to the ball…