Last Updated on 11th September 2011
This is a guest post by Lois Mills, one of our (frankly brilliant) competition winners. Last night we sent her on a special mission to sift out the sweetest soirees taking place on the high street at Fashion's Night Out – and not one to turn down a challenge, she triumphed in her task. Here, Lois shares her experiences on her very first Fashion's Night Out…
The night everyone has been talking about has arrived: Vogue's Fashion's Night Out. You know that you can only expect greatness when three of the best words in the dictionary are used all in the same title (and in case you're having a little difficulty choosing which three words I mean, let's just say I'm not a fan of the 'out'doors!).
Having caught a little of what happened at last year's events, and having spoken to Daisy (the other competition winner) about what to wear, I was giving my outfit choice some serious consideration. In the end I went for a very Seventiess vibe, with high-waist purple velvet trousers, a green vintage vest and a studded black belt; topped off with a retro pair of glasses and a black wedge-and-sock combo for my feet!
On the train, I was busily taking advantage of the VFNO app; discovering what was going on in every store whilst viciously scribbling them down, trying to be strategic and rank them in order of importance and closeness to one another. A few minutes later, and my list was longer than Oxford Street itself – tonight was going to be hectic!
For me, the night began in John Lewis – there were three fashion shows running over the course of the evening, and Mischa Barton was present at one of them. Fingers crossed. I was at the first show, and I managed to be bang at the front; though that was merely down to being early rather than luck or authority!
The collection seemed to have drawn inspiration from multiple places and themes, with strong references to 1950s burlesque, 1970s style prints and 1940s hats and tailoring inspiration. The models ages covered a whole spectrum,
so there really was a style for everyone; and the champagne and freebies contributed everyone's cheery mood – a great start, even though I didn't spot Mischa!
My next favourite event of the night was hosted by River Island. Having grabbed myself a free flavoured beer, I spotted the photobooth and made a beeline for it; what is it about photobooths that's so exciting?! I must have spent far too long in there, as the attendant waiting outside gave me a very strange look (surely my photos weren't that bad?) – but having found the 'record a video' button, I just couldn't help myself!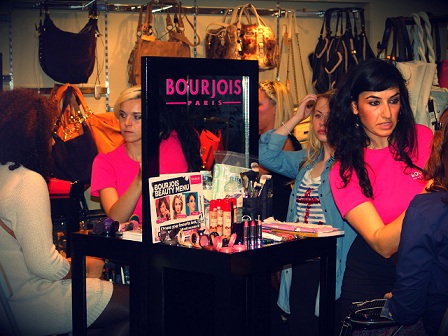 Photos collected (okay, they were that bad!), I made my way upstairs to what looked like a shop-turned-salon. Barry M and Remington both had their own stations set up, offering girls (and boys) the chance to have their makeup done and their hair transformed. Being a bit picky about my Amy Winehouse-esque eyeliner, I popped myself down at Remmington, where the hairdresser transformed my flat and lifeless mop into a voluminous mass of curls, created with the new 'Wrap to Waves' styling tool! My new 'do resembled the models' hair in Topshop Unique's SS11 show – now I was even more Seventies than the Seventies themselves; and I loved it!
As if that wasn't enough(!), music blared out of the ever-cool Urban Outfitters store, and the whole vibe within the building practically screamed 'come in if you want to have fun'! So with no excuse available, I wandered in and up the stairs. 'Work it 90s' had a DJ set going on the top floor, and free drinks seemed to be a given, which only added to the fun that was surrounding me and the other fashionistas partying it out on the floor!
Whatever came next had a lot to live up to, but Pull and Bear did just that! Being slightly naive and unaware of the brand on a purchasing level, I wasn't entirely sure what to expect. Would I enjoy myself? Being greeted by a photographer who offered my +1 a panda mask for a Polaroid photo-op answered my question; yes, this was definitely going to be fun!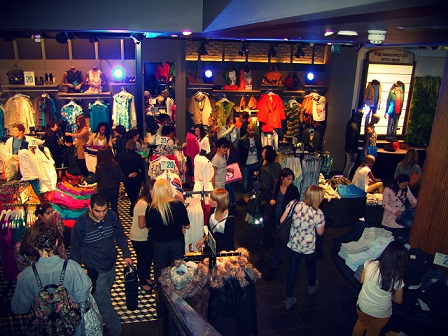 People queued up behind us to take one of the fun-filled photographs, with a variety of different 'heads' to put over the top of your own – a great way to avoid any post-party mascara smudges! Being the store-explorer that I now was, I
headed for the stairs, but couldn't get past without being offered a delicious looking biscuit, shaped in P and B shaped letters. More delicious still were the organic cocktails upstairs, which tasted like a magical potion, and not just because sprigs of lavender and mint surrounded the cup! And for the few individuals who felt a little more healthy, there was an electrical bicycle race on stage – a game I dared not attempt after the two model-meet-bodybuilder men finished their cycling duel!
I think it's safe to say that I could write about my night until the cows come home, but just for the sake of you wanting to get a bite of the action, I'll sum up in more manageable chunks what else went on in Oxford Street last
night: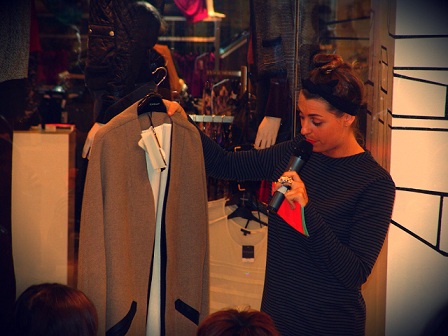 Accessorize had nail painting and (very full) goodie bags to take away. Bershka had DJs mixing at the front of the store, and H&M also had a cute photobooth – though this time, I knew my limits! I got myself a free makeover at House of Fraser, and Topshop had a video camera that allowed you to record your own message (which was then displayed on a projector screen in the store), whilst fashion talks took place. I managed to overhear some Vogue outfit picks; one item being an oversized 'boyfriend' style coat in grey with leather in-trim and lining.
And to top it off, Uniqlo was previewing the latest – and last – +J collection, and let's just say the queue out the door was convincing enough that it was the greatest so far!
Words cannot begin to sum up the craziness and mayhem of what was Vogue's Fashion's Night Out, nor express the amount of fun that I had in being there, courtesy of My Fashion Life. A truly fantastic experience and an incentive to find inspiration just on your high street!
[nggallery id=73]