Last Updated on 17th July 2017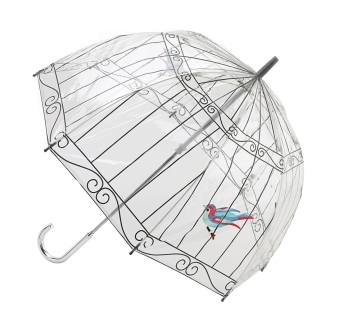 Twitter is crying frozen tears, the weatherman's got his hat on, and it's starting to get slippy.
Yes, it's snowing, and don't we all know it. But forget those picturesque white blankets, this stuff ain't settling.
In fact, we're putting 'snow' in inverted commas, because we're inclined to call it sludge which, in our book, is neither fun nor exciting. What it is, is wet.
But you know what? We don't mind any of that, because at the very least it's an excuse to use this frankly fabulous umbrella from Lulu Guinness.
With an entirely domed shape to keep you dry to your shoulders, this transparent rain-stopper with it's super-sweet birdcage print is utterly adorable and laced with Lulu's signature charm.
Plus, because of it's all-encasing design, it won't turn inside out in the wind, either (bonus or what?).
The perfect way to combat the day's cold and stay dry. Race you to the till!
Lulu Guinness birdcage umbrella, £32, available at Lulu Guinness.