We know it's early days as we still have the rest of Milan Fashion Week and the whole of Paris Fashion Week to look forward to, but we are declaring Moschino one of our favourite collections of the season (so far).
Moschino presented somewhat of a "space-age meets sixties and seventies" collection, with more colourful, floral, vivid pieces than you can shake a stick at. The collection went from one extreme to the other in terms of colour (or lack thereof) as in amongst the bright floral pieces were chic monochrome ones that would be totally at home in Karl Lagerfeld's personal wardrobe.
It was also all about the flower power and complex cuts and silhouettes for Prada's spring/summer 2013 catwalk outing too. The collection appears to have been relatively Japanese inspired if the kitsch, cute, elevated floral embellishments on the garments, silk kimono-style pieces and geisha-red lips on the models are anything to go by.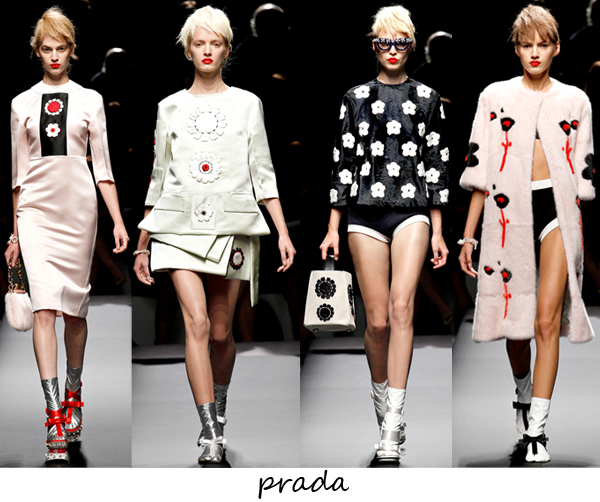 And on a separate note, how Iris Apfel are those glasses on the third model above? Amazing! We're not too sure where the metallic socks fit in though. A predominantly monochrome colour palette with a bit of bold red thrown in for good measure – how can you go wrong with something so timeless and classic?!
Today is a busy day for the Italian fashionistas, as the likes of Versace, Versus and Just Cavalli will be showing their spring/summer 2013 offerings so stay tuned for more updates!