Last Updated on 19th October 2013
With the Chanel Little Black Jacket Exhibition in town, it's only fitting we dedicate some valuable fashion time to this iconic piece of clothing.
The epitome of Parisian chic, pioneer Coco Chanel first graced us with the Little Black Jacket back in 1954, and since, its eternally stylish appeal hasn't waned. With a plethora of styling possibilities in a wardrobe transcending colour, the Little Black Jacket is an essential 'survival' piece in every modern, style conscious woman's wardrobe.
But, as much as we hold the esteemed Parisian fashion house in high regard, its lust-worthy pieces come with astronomical price tags, and the Little Black Jacket will set you back by £1,500 or so!
So, for those wanting a piece of Chanel chic at a snip of the price, we've hunted down the perfect LBBJ (Little Budget Black Jacket, dontcha know!) that'll deliver an equally stylish dose of Coco's charm to your wardrobe, without a stern bailiff's warning!
Here's how we're wearing the LBBJ:
Off-duty style
The self coloured sequins on this black bouclé jacket tone it down to perfection for daywear. The padded shoulders and close-fitting cut give way to a fab silhouette, and worn with rolled up boyfriend jeans, a casual tee and look-at-me heels is the perfect way to add a little glam to an off-duty look.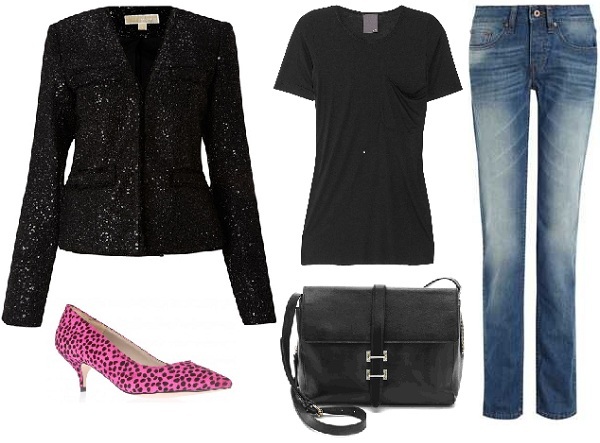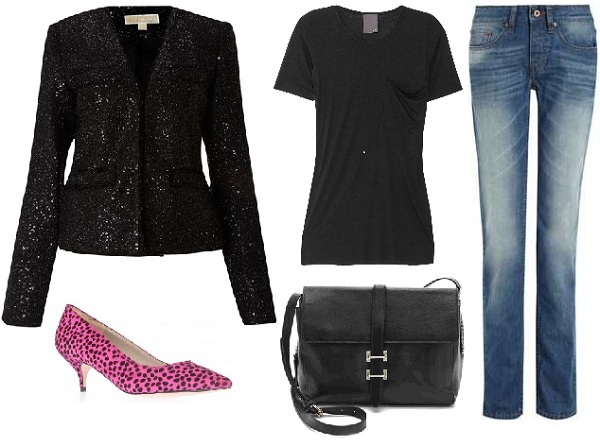 Michael Michael Kors Sequined bouclé jacket, £285, available at Net-a-porter; LOT78 Jersey pocket T-shirt, £39, available at The Outnet; Relaxed Boy Fit Jeans, £35, available at Next; Foley + Corinna Simpatico Bag, £225.31, available at shopbop; Camille Pumps, £100, available at Kurt Geiger.
Cocktail Evening 
With outfit-hopping qualities promised, this sequin bouclé jacket is the perfect accompaniment for an evening look. Adding a little sparkle to after hours wear, mash up textures for an interesting look by teaming the LBBJ with leather, studs, ponyskin and more sequins! Outfit envy guaranteed.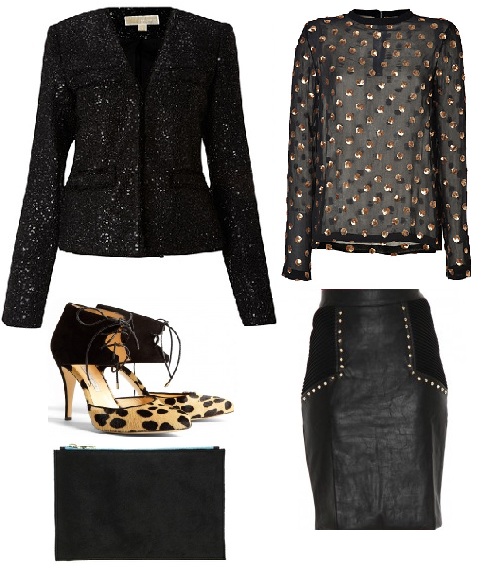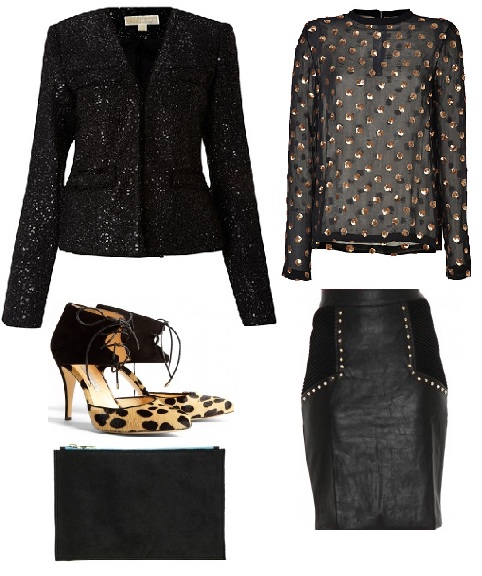 Michael Michael Kors Sequined bouclé jacket, £285, available at Net-a-porter; Bionda Castana Pia Leopard and Black Lace Up Shoes, £437, available at My Wardrobe; Suno Black Sequin-Polka-Dot Sheer Silk Top, £348, available at Stylebop; Leather and Pony Clutch, £30, available at Asos; Laurrie Leather Stud Pencil Skirt, £31.99, available at Missguided.