Last Updated on 12th November 2012
It's finally here! We've been looking forward to this cover ever since photographer-to-the-stars Annie Leibovitz let the cat out of the bag and revealed that she had shot Anne Hathaway for the American fashion Bible's December cover.
And although the photographer is famous for creating more unconventional – and sometimes controversial – images, it's nice to see that she stripped everything back and let Anne Hathaway's natural beauty shine through on the cover.
As well as the gorgeous, striking green dress on the cover,  Anne is modelling some beautiful pieces in the editorial, including a Valentino Haute Couture velvet dress, and a Ralph Lauren embroidered vest and ruffle blouse.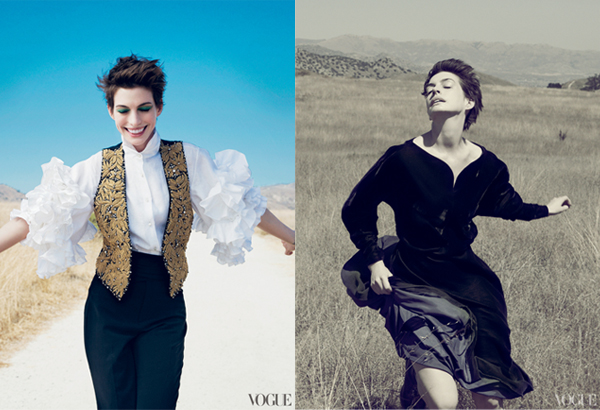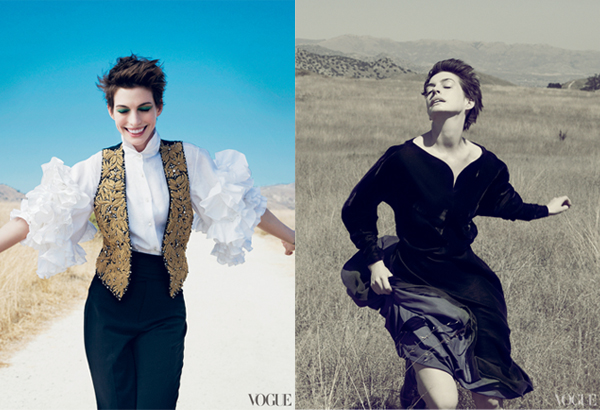 In the accompanying interview, Anne naturally chats about her role in Tom Hooper's Les Misérables, and reveals that she knew the part was hers when she left the audition…
"I knew that someone was going to have to go in there and do something pretty special to unseat me," she said. "Sometimes you leave a room and you feel like maybe you've left the door open a crack. This time, I knew that I had slammed it shut behind me."
Now we haven't seen the film yet (it's out on January 11th – get it in your diaries) but judging from the trailer which we helpfully put in at the bottom, we can totally see where she's coming from. We got goosebumps! The role belongs to Anne and only Anne, and we bet there's a "best actress" award or two out there with her name on.