Last Updated on 18th June 2016
Is the winter weather getting you down? As the shorter days and colder nights make you yearn for the return of summer, there's nothing like a wardrobe refresh to return a certain spring to your step. While there are a range of options to choose from when looking to liven up your clothes collection, a new coat can be the perfect solution for revitalizing your style whilst simultaneously combatting the cold.
The winter coat is an absolute essential item for keeping up with the seasonal style. Due to the nature of their size and materials used in their fabrication, coats can often be more expensive than other categories of clothing. With these costs considered, choosing a coat represents an investment which you won't want to take too lightly. The perfect coat will have a flattering fit, stylish design and be substantial enough to keep out the cold. Numerous different variations are available with some proving to be more popular than others. You could choose to play it safe by join the masses, but why not do things differently this year?
Desigual is an innovative casual clothing brand based in sun-soaked Barcelona. Their ornate, art-deco-meets-the-orient designs are among the more unique coats available this winter. I've selected five of my favorites which I hope represent the diversity of their range while providing options to suit a range of tastes and budgets: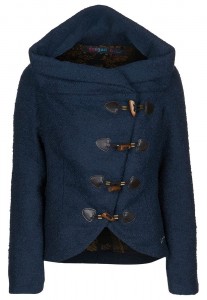 Chaq Deleia
This mid-length jacket comes in a majestic deep navy hue and the leather-like elbow details look fantastic in combination with the wooden fasteners. The jacket has quirky stitching on the back reading "Look at this rainbow" which compliments the dark yellow flowery lining. A fun design which is would be great for everyday use.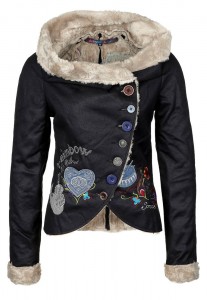 Leia
This shorter jacket has a similar cut to the Chaq Deleia but opts for a button up approach instead of the fasteners. The stitching on the front and back of the jacket may be a bit too bold for some but I think the designs give the jacket a light and playful look. The snug looking fluffy lining is sure to keep you snug on cold winter walks.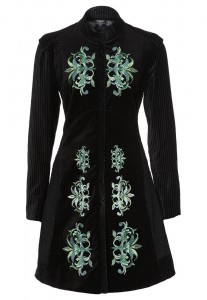 Abrig Menta
With a longer overall length, this jacket differs from much of the range. The smart black material with pinstripe detailing on the sleeves and lining contrasts effectively with art-deco eske patterns that feature across each side of the front and the center of the back. This coat puts a punky spin on what would otherwise be a formal coat.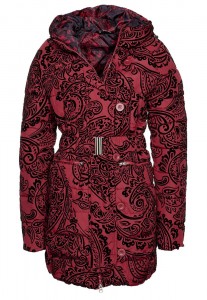 Abrig Red
This beautiful coat fits perfectly with the current ox-blood color craze. The ornate Paisley print motif that is featured both inside and out gives this jacket a gorgeous delicate look without compromising on warmth. The drawstring, lined hood and spacious front pockets will ensure you stay warm and dry whatever nature throws your way.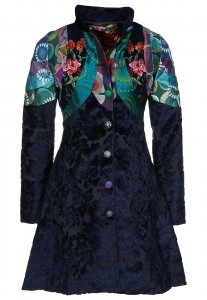 Abrig La Solista
While being one of the most costly coats on the range, this coat demonstrates the age-old truism of 'you get what you pay for'. The full length of coat coupled with a subtle embossed pattern of charcoal on navy makes this coat smart enough to wear to any occasion. The upper half really demonstrates what Desigual is all about. With delightful patterns and soothing colors, the blend of ribbons and roses really does complete what I believe to be the perfect coat for this winter.
Guest Post Author: This guest post was written by Ruth, on behalf of Zalando.co.uk, a leading fashion retailer. If like the products above, you can buy these womens coats on Zalando.co.uk.