Well if it isn't the brand spanking new Mulberry spring/summer 2013 ad campaign!
We may be a bit disoriented from the Christmas break, but we certainly perked up when the new Mulberry ads  – in all their water-coloured glory – landed in our inbox this morning. If Mulberry pastels won't cheer you up, what can, eh?
The ad campaign was shot by the wonderful Tim Walker at Copped Hall just outside London, and features the gorgeous Meghan Collison posing in some of the finest and most memorable pieces from the newest Mulberry collection.
"The campaign images reflect Emma (Hill)'s vision for the season, a dreamscape of delicate powdery pastels inspired by corals and lunar landscapes provides the perfect context for Meghan Collison's striking beauty," said Georgia Fendley, the Mulberry Brand Director.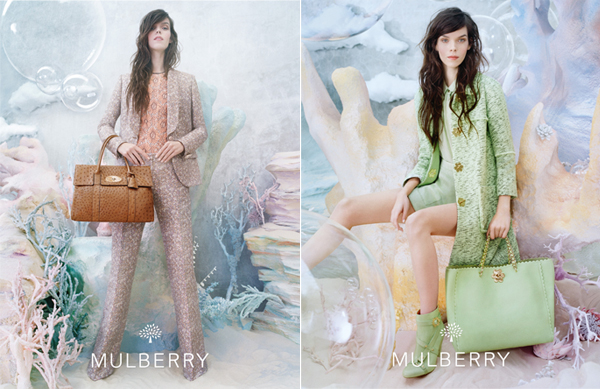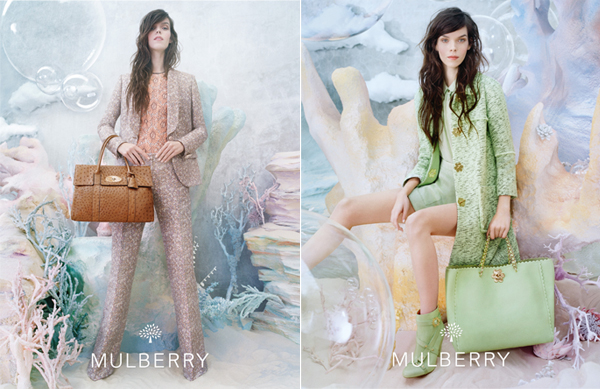 "The images showcase some of our strongest catwalk looks and the season's key bag silhouettes. We are delighted with the results of our on-going relationship with Ronnie Cooke Newhouse and Tim Walker and we absolutely love the new campaign, every time we think it can't get any better it does!"
Pay special attention to the new Willow tote bag too – beautiful isn't it? We're definitely salivating over it! Do you love the campaign images as much as we do?