Last Updated on 29th January 2013
[noskim]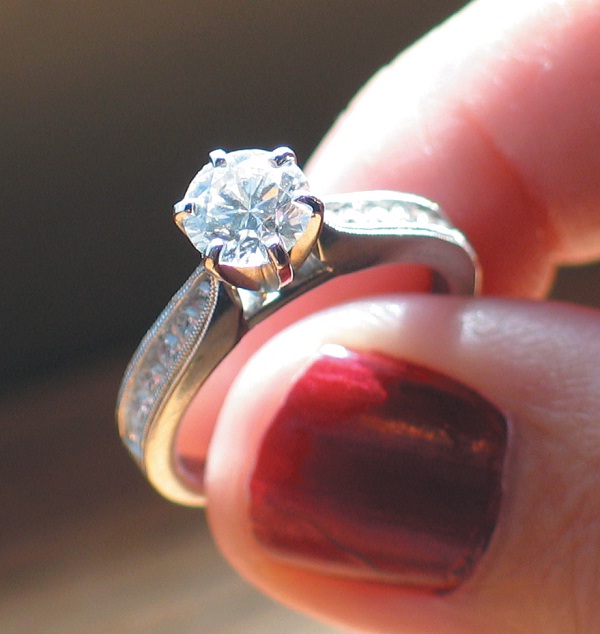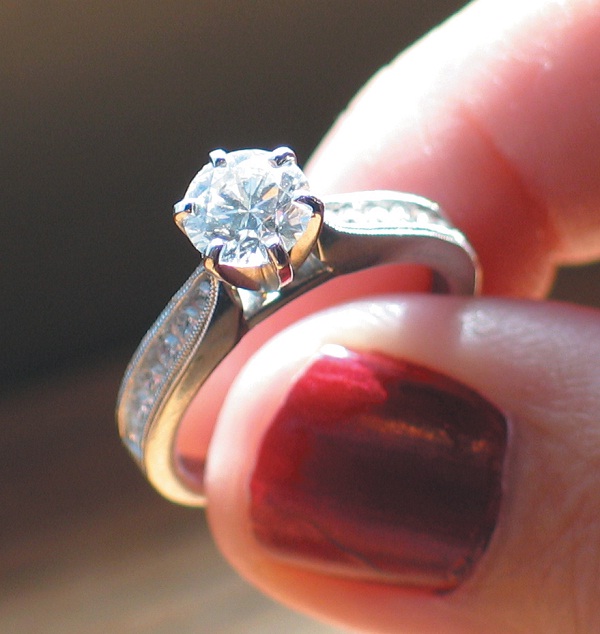 How wonderful to have made a decision to become engaged and commit to another person, Congratulations! Now comes the hard part…finding the perfect symbol of everlasting love. Well not to worry, we're here to help..here's our tips on what to look for in the perfect engagement ring:
There are tons of different styles of diamond rings to choose from, so lets discuss a few of the more popular options.
A. SOLITAIRE. A solitaire diamond is usually round, but it also can be cut into shapes that are not as common. For example: a "cushion" is square with the corners rounded for the "princess" is also square but with pointed corners, instead of rounded. A "marquise" is oval shaped with the top and bottom pointed. A "pearl" is similar to a marquise expect that the bottom and top are slightly rounded. Perhaps a heart shaped solitaire will be the perfect symbol of love.
B. A SOLITAIRE with ACCENTS offers something extra and unique. On both sides of the main, centre solitaire would be smaller stones. These accents can be the same cut as the main solitaire or can be totally different in shape and colour.
C. The THREE STONE version of an engagement ring can be of any size and shape. It is the symbolism behind this style of ring that is of greater importance, it can be interpreted as the past, present and future or it can have a religious meaning with God being an intricate part of the two of you.
The 4 C's in reference to diamonds stands for: Colour, Cut, Clarity and Carat.
COLOUR
Ideally, diamonds should be clear with no colour. There is an alpha scale on which diamond colours are graded.
Unlike school grades, a "D" is the highest and most desirable grade. An "F" and "E" will have a tiny trace of colour and only detectable by a gemologist expert.
"H" and "G" have some colouring, and can be seen only when compared to a "D" grade diamond. "J" and "I" have a slight colour, but it can be very attractive and desirable because they offer a unique type of warmth and tone to the stone.
CUT
A well cut diamond sparkles do to reflective light. An IDEAL cut will provide the "WOW" factor because it is the highest possible quality and cost the most. A grade of VERY GOOD will cost less than an IDEAL cut, but it still reflects most light. A GOOD cut reflects light very well and represents about 25% of all diamond cuts. A POOR cut diamond allows most (if not all) light to escape because the cut would be either deep and narrow or wide and shallow.
CLARITY
All diamonds have some sort of imperfection, seeking a FL (flawless) quality will keep these imperfections to a minimum. The imperfections found in a WS1(or2) diamond can only be detected when under a magnification of at least 10 times. The imperfections found in a VS1(or2) will also require a magnifying glass. The flaws of a 1(1,2or3) can usually be seen by the naked eye.
CARAT
The carat refers to the weight of the diamond. Between the cut and carat size, one can plan the financial investment on the engagement ring. Usually carats range from one-quarter to five.
Buying an engagement ring should be about finding the perfect ring to represent your love for your future spouse and picking one that is very expensive may not be as special as getting the one you know she would like the most. So always think about who you are buying it for when choosing the ring.
Author Bio:
Rebecca Lowe writes on behalf of Samara James a jewellers who specialise in exquisite diamond engagement rings for the perfect proposal. Rebecca works in fashion and writes about the latest trends from the catwalks, brands and high street. She enjoys designing her own clothing, music and socialising.
[/noskim]