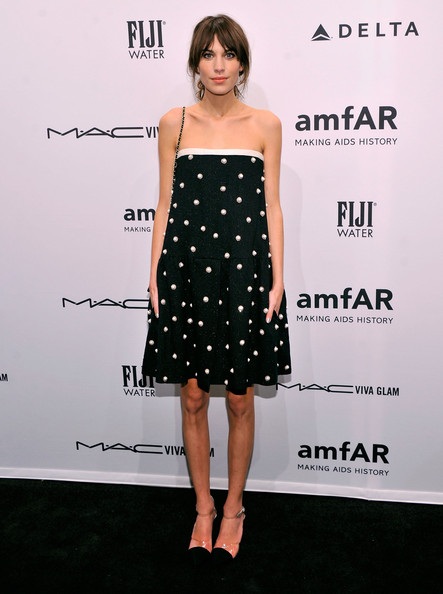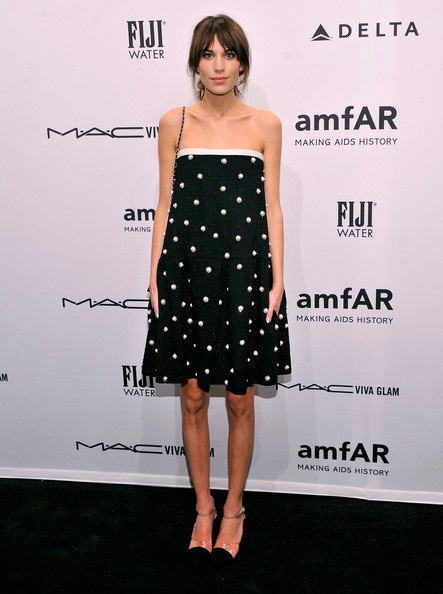 With fashion month officially here, it's only fitting we end our week with a name often affiliated with a distinct sense of style. Yes, we're talking about the inimitable Alexa Chung who, not content with sitting pretty at every front row, has only hopped across the pond to become America's fashion darling!
Kicking of New York Fashion Week, the A-listers flocked to the annual amfAR New York gala in all their finery, and Alexa was once again waving the flag for us painfully stylish Brits in a gorgeous Chanel number.
Looking more girly than school girl (bar the school photo stance), Alexa wore a pearl-embellished, black and white tweed dress from the Spring 2013 collection. She went for the look exactly as it was shown on the runway, but gave the heavy pearl choker a miss, instead accessorising with a Chanel shoulder bag and PVC toe-cap pumps.
We couldn't stop envying Alexa's anything-but-perfect hair even if we tried, and the low, mussed up pony tail and peachy hue on the lips work well to give Alexa's look a girly touch without wandering into stereotypical saccharine sweet territory. That just wouldn't sit right with our favourite tomboy in a dress!
Way to go, Chung!