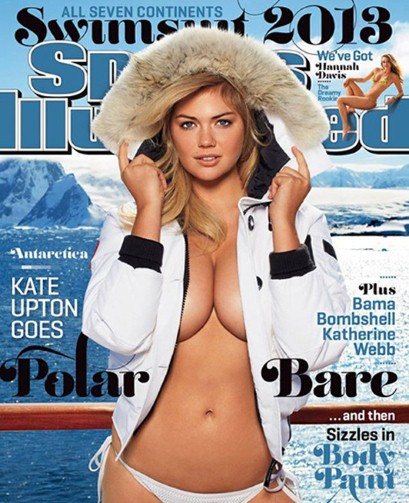 Now that she's got the British Vogue seal of approval, we thought Kate Upton would have put her Sports Illustrated cover girl days behind her. But oh, how wrong we were…
To the delight of all the boys out there, the 20-year-old curvaceous blonde model is once again Sports Illustrated's cover girl for the prestigious Swimsuit Issue for the second year in a row. If she manages to bag next year's cover as well, she'll match the record which is currently held by two very gorgeous ladies known as Christine Brinkley and Elle Macpherson. Only time will tell whether she'll make it into the magazine's hall of fame. Do you think she can do it?
Shooting in the South Pole for a swimsuit cover is a bit different, to say the least, but we do like it when magazines mix it up and defy conventions. And we actually think it's quite good of Kate to pose for the issue – shows that she hasn't forgotten where she's come from, and also proves that she is a versatile model. Not to mention a model who looks sizzling in all temperatures. Gorgeous as always, Ms Upton!