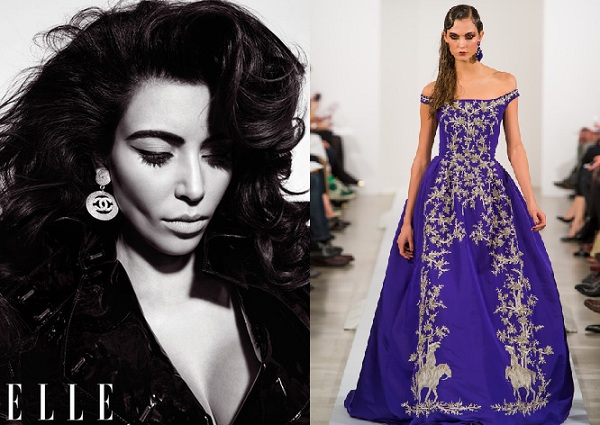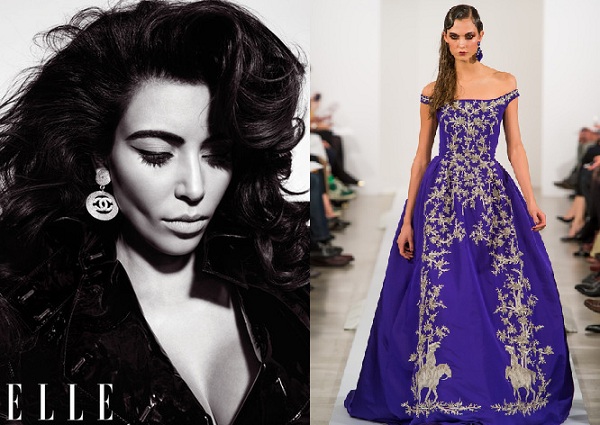 Along with next season's offerings, this week has been filled with tales of an adventurous nature. Kim Kardashian has been a frequenter on my social media timeline, as has comeback couturier, John Galliano. So what's the connection between the two, you ask? One of fashion snobbery and its many faces, I say.
It was reported earlier this week that Kim Kardashian's shoot for the March issue of ELLE US was, to a certain extent, hampered ever so slightly by the lack of designer pieces her stylist was able to pull. The stylist in question, Nicola Formichetti, is Lady Gaga's fashion friend and creative director of Mugler, and a fashion force to be reckoned with in the industry. So, why the problem to pull pieces for a relatively standard shoot for someone of Formichetti's fashion calibre? Well, his explanation was Kim's 'not the 'It' girl yet, but she will be'. Really?
I guess this comes down to how we define the term ''It' girl'. With a public profile such as Kim Kardashian's (given that major brands thrive off even bigger personalities) and her major outreach to an extended fan base (she surely has partial support and love from Kanye's fans, too) that amounts to a Twitter following in excess of 17 million, it shouldn't be impossible to figure out. Isn't an 'It' girl emblazoned across everything, everywhere (cue: previously relatively unknown Cara Delevingne now tipped as the next Karlie Kloss/Kate Moss)? Isn't her name supposed to roll off every tongue, appearance shift a thousand products and boyfriend supposed to be the world's number one rapper?
An argument about Kim's rapidly expanding curves seemed to have seeped into the conversation, but people like Kate Upton would void such an idea. After all, hips or no hips, Upton isn't the average size zero model, but still has designers vying to dress her for major magazine shoots. Then why the limited selection of high-end wares when shooting for the world's biggest selling magazine? If you'll have her and her skirt-clad boyfriend sit front row at your show to gather as much media hype as possible (only possible with an 'It' status), then why not clothe her for a measly photo shoot?
Although the words came from Formichetti, the underlying reluctance to give free and open access to the upper echelons of this tight knit industry to someone whose celebrity existence is based on a 'famous for two minutes, then nothing' idea is, ironically, the same as the very clothes in question: fleeting trends; in one season, out the next.
But the snobbery didn't stop at Kim. John Galliano was granted what can only be described as a new lease of runway life by veteran designer, Oscar de la Renta, when he was allowed to reside at the ODLR atelier and allow his vision to 'influence' de la Renta's runway looks for autumn/winter 2013.
Since his dismissal from Dior over two years ago, the disgraced designer has kept a low profile, but using de la Renta's approval (and atelier space) to make a concealed comeback (Galliano didn't appear in the show notes or take a bow at the end) is a meek move.
Yes, the collection is beyond beautiful, and nothing can devalue the master stroke of genius Galliano's vision delivers, but it begs to be questioned: is the seal of approval from the revered de la Renta, whose shows each year are the undisputed highlight of the fashion month calendar, almost serving as an ultimatum? Is it telling the fashion world that Galliano's time to return, and our time to forget his past doings has come, and with a mind-blowing design strike, he will once again enter the circuit he single-handedly commanded? If the answer is yes, and the de la Renta show was just the beginning of a new Galliano era, then this is fashion snobbery dressed in a meringue gown and a hat, complete with pirate pig tails.