Last Updated on 19th October 2013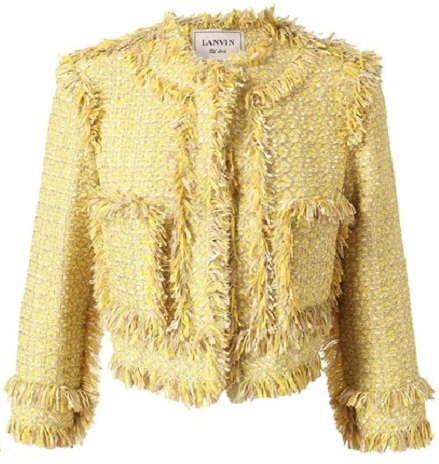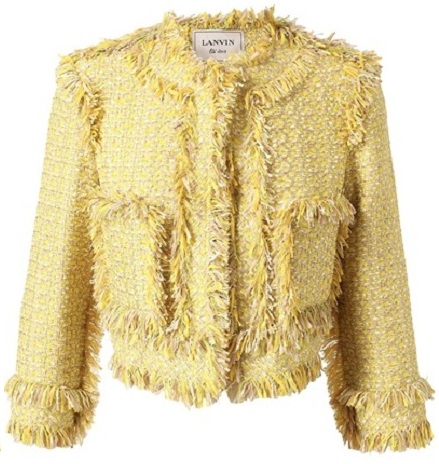 Every Chanel aficionado will know the value of the luxury fashion house's famed tweed jackets. Timeless, classic and a truly goes-with-everything piece, the tweed jacket has become somewhat of permanent fixture in most discerning fashionistas' wardrobes.
But with perennially chic black being the choice of colour for most tweed jacket lovers, we couldn't help but break away from the rules when our eyes landed on this bright version!
An eye-opening colourful cocktail of yellow, tonal taupe and chartreuse, the Lanvin cotton tweed jacket boasts an edgier vibe, with fringed trims and a slightly cropped length, and would go perfectly with a block colour summer outfit – very Riviera chic!
But going crazy with a classic – especially when it comes to a investing your hard earned pounds in an spectrum straying colour can be a difficult fashion thought to swallow, so here are a few pros and cons to help make the decision process a little less painful:
Yay
Investment: You're probably sick of hearing this, but a tweed jacket is the ultimate investment when it comes to statement-making outerwear with an element of longevity.
Statement maker: A sunny yellow hue is the way to welcome spring/summer into your wardrobe, and this three-toned jacket is sure to complement airy summer ensembles no end.
Flattering cut: A semi-fitted cut and three-quarter sleeves make for the perfect jacket to accentuate your waist area whilst showing off some wrist candy!
Nay
Price: Just as the classic Chanel version commands a rather large sum of money, this Lanvin option isn't far behind. A four figure sum will not only dent the bank balance, but £1,970 could amount to a lot of other missed wardrobe investments opportunities.
Colour: As much as the colour is attention grabbing, when a classic piece is splashed in it, it can go either way: too much of a luxury thing can prove a repetitive fashion disaster, and too little can spell, well, a financial disaster with a healthy helping of guilt!
Trend-centric: Summer naturally brings the hidden bohemian in us out to play, and the artisan-style fringing could potentially pigeonhole this beautiful jacket to a summer-only piece – not what you want from £1,970 worth of cotton tweed!
Lanvin cotton tweed jacket, £1,970, available at LuisaViaRoma