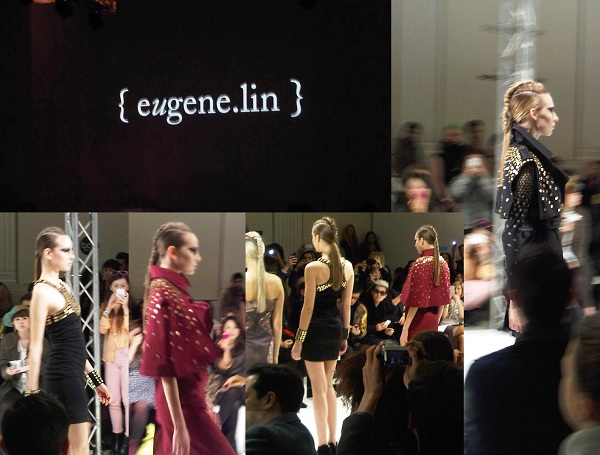 Fashion Scout shows are always an exciting reminder in our Fashion Week diaries.
Continuing the fashionable activities on day four of London Fashion Week, we teetered in heels down to Freemason's Hall in Great Queen Street to check out talent from the East making waves in the West.
Eugene Lin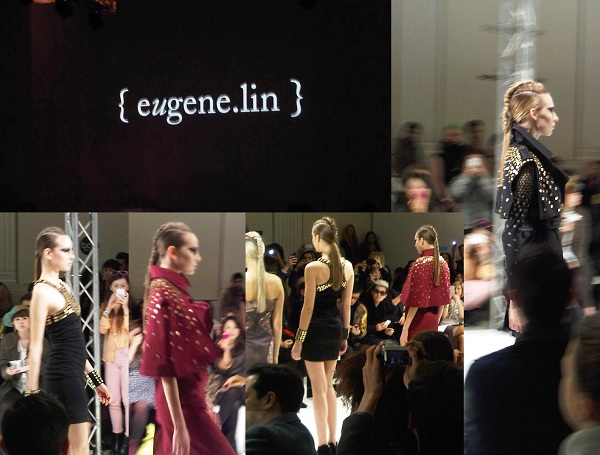 Singapore-born, Central Saint Martins alumnus, Eugene Lin, sent out the very urban Trojan princess he had envisaged when designing the autumn/winter 2013-14 'Cupide de Locke' collection.
Interpreting the contrasts between 'involuntary violence and fragility of love' (the show rather aptly opened to a modern reworking of Nancy Sinatra's Bang Bang), Lin chose a black and sand palette to update the armour-esque trench coat with embellished capes, as models sported warrior chic-inspired plaits on the crowns of their heads. Shattered mirror prints on dresses depicted the power of Cupid's arrow, whilst the toughness of high neck collars and cuffs and strong, focal eye makeup reminded us of a woman not to be crossed.
Heowhan Simulation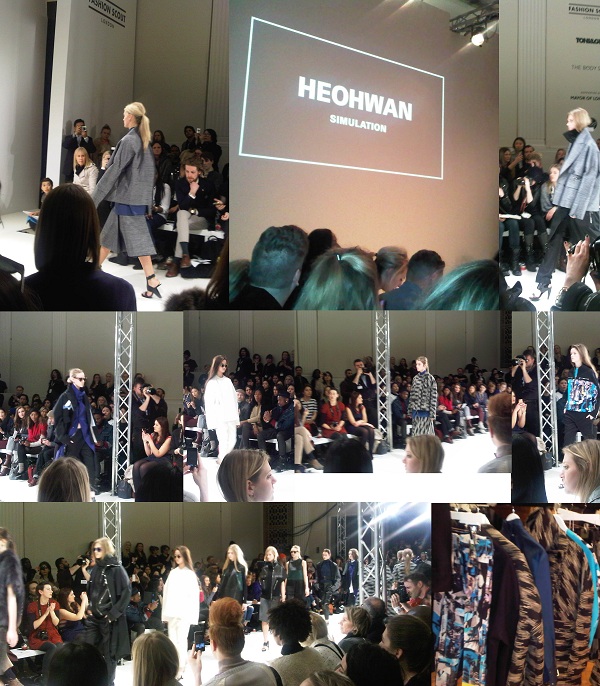 Breathtaking was the only way to describe this technical genius's work. Having previously won the Vauxhall Fashion Scout Merit Award, Korean-born Hwan Heo is two seasons into a ten-year season vision, The Decade Project, to create experimental artwork fashion that lends itself to stories of social and political unrest.
For autumn/winter 2013-14, Heo looked to France during the protests of 1968; when political rebellion was high on the nation's agenda. Riotous prints interspersed with patch detail inserts on oversize jackets and worn over long-line, contrasting jackets; loose silk blouses, multi zip-detail bikers and knuckle-slimming sleeves made this yet another desirably wearable collection.
Ji Cheng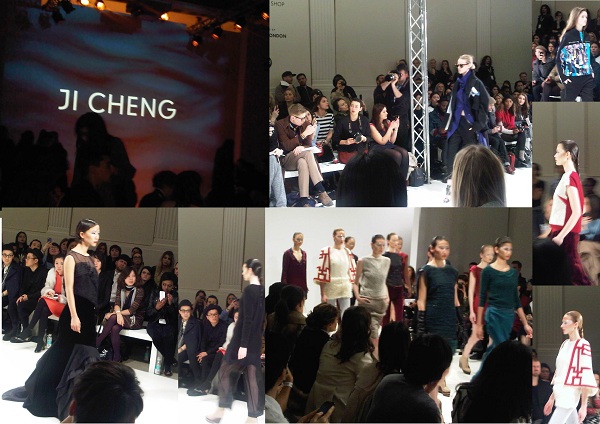 Waiting for the Ji Cheng show to start, there was a certain excitement in the atmosphere that could be tasted. Reading the show notes whilst sipping on Vitamin water (which was  very welcome after a day of show hopping!), we learned that the autumn/winter 2013-14 show was styled by Ling Wu, Contributing Stylist to Vogue China, whilst Vincent Xu, Chief Creative Artist for Estee Lauder was responsible for the enchanting runway looks.
Named 'Koi's Whisper', the collection was inspired by the koi carp (brightly scaled, almost 'brocaded' fish found predominantly in Central Europe and Asia), models moved gracefully down the runway, as tough sliding through oceanic waters, in sheer trousers paired with loose-fit knits; second skin sheath dresses were adorned with vertebrae-like detail, whist glistening textured wool dresses in seaweed green and a predominantly black colour palette were punctuated with a bold, red and white decorative cape with maze-like embroidery. The models' delicate eye-area was sprayed with multicoloured sequins to resemble the collection's source of inspiration, but the real highlight was the closing look; a stunning black gown with an extended train and overlapping scale-like detail.