Last Updated on 28th February 2013
[noskim]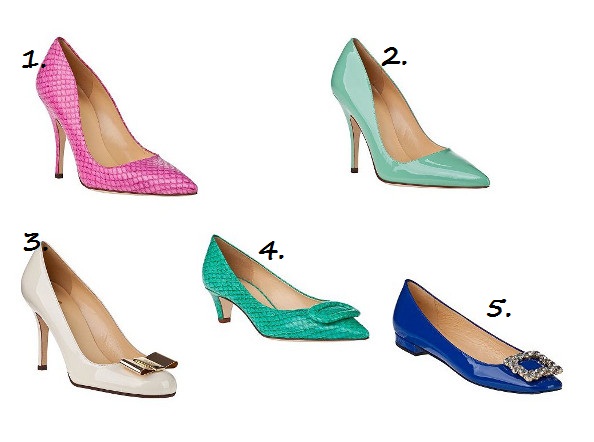 We're in the mood for shopping, and nothing makes us happier than splashing the cash on some fabulous pieces of footwear that will put a spring in our step and song in our hearts – with an emphasis on the word "spring".
Now that the weather's warming up a bit (or at least, it's supposed to) it's time to ditch those fur-lined boots that have been our savior in the bitterly cold winter for something lighter, more feminine and best of all, more glamorous.
Take a look at then gorgeous designer shoes we've picked out for you below. Ok, we've kind of broken our own rule and even gone for cheeky pair of Kate Spade flats as well – we couldn't resist the rich cobalt blue tones, or the inevitable comfort that they will bring after a long, hard night of partying. What do you think of our selection of Kate Spade shoes? Which pair is your favourite?
1. Kate Spade Licorice Pump Pink Snake
If you like your colours bright and your heels high, look no further than these beauties. The licorice pump in pink snake is an elegant and feminine shape for all you chic ladies out there, but is still attention-grabbing enough with its snakey texture and pointed toe to add some versatility and wow factor to your outfit.
2. Kate Spade Licorice Pump Seafoam Patent
Another shoe in an elegant shape and contemporary colour. Slightly more muted and understated that its pink snake counterpart above, but just as fashion-forward. Wear with similar pastel colours, colour-clash it with some brights or add them to a monochrome outfit to jazz it up, this is a hard-working pump and the styling choices are endless.
3. Kate Spade Karolina Bow Porcelain Patent
If ever there was a shoe with a timeless design with a hint of modernity, then this is it. Another shoe that will serve you well both day and night, at the office and at the cocktail bar. We love the bow detailing, as it gives the pump something special and sets is apart from every other standard nude shoe you see knocking about.
4. Kate Spade Simon Pump Emerald Snake
Love the styles you've seen above but don't quite fancy traipsing around town in high heels? No problem – these Kate Spade pumps are super-comfy with their cute little kitten heel that doesn't compromise on elegance and femininity. What the shoes lack in heel height they make up for in attitude – you can't help but be fierce and fabulous with a snake print!
5. Kate Spade Norella Ballet Flat Cobalt Patent
You don't need us to tell you how hot the cobalt blue shade is right now – put that onto a shoe and add some bedazzling jewelled detailing at the front and you'll have a piece of footwear you won't ever want to take off. We urge all ladies who don't feel glamorous in flat to give these a go, we almost guarantee there'll be no turning back!
[/noskim]