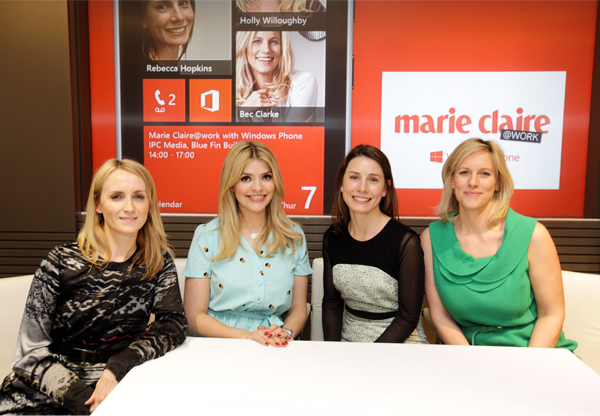 Happy International Women's Day to all of our lovely lady readers!
We know that us ladies are very hard workers (probably more so than the boys, shhh) and sometimes find it hard to maintain a healthy work and life balance, which is why we took it upon ourselves to find some helpful tips and suggestions to make things easier.
We went along to the Marie Claire At Work event yesterday afternoon, hosted by the mag's editor-in-chief Trish Halpin, where three very inspirational women gave a talk on how to effectively manage your work and life balance. The ladies in question were none other than Holly Willoughby, Balance Me founder Rebecca Hopkins and jewellery designer Bec Clarke, each one providing individual and personal insights and suggestions.
The talk was actually filmed so you can catch all the great points at the Marie Claire website, but here's a brief summary to whet your appetites:
1. Do something to take your mind off work, e.g. exercise
2. If you can, try working a 4-day week as it gives you more time to relax, socialise and hang out with the fam (be it parents, children, hubby etc
3. Avoid working from home
4. Try and leave work on time every day
5. Walk to work (if you can), as commuting can take up valuable time – plus it gives you time to collect your thoughts, make phone calls etc
6. Make the most of advanced technology – use your smartphone to plan your life so you're not relying on your memory
7. Don't "plan" when to have children – there's never a "right time" so just let it happen and everything else will fall into place
8. Schedule time for your girl friends (ladies gotta stick together!)
9. Don't put yourself down!
You can find out more about the event at Marie Claire right now – a big thank you to the ladies for taking time out of their busy schedules to talk to us, we learnt a lot!
Ps  – we thought today was a very good excuse to bust out the Destiny's Child, so please cast your attention to the Independent Women video below… never gets old!