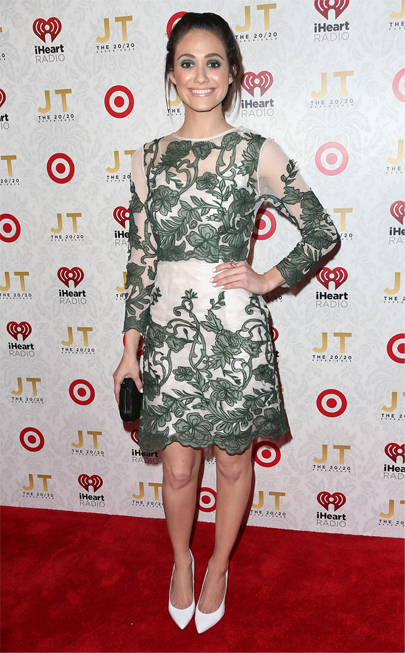 Demi Lovato isn't the only famous fan of Topshop – Emmy Rossum seems to be quite keen on it too! God bless Philip Green!
We always get a warm and fuzzy feeling when we see celebs taking to the red carpet in Topshop… after all, they have so many designer options at their fingertips that they could wear absolutely anything they wanted… so the fact that they choose Topshop proves that the high street store is still doing something right!
Emmy Rossum attended the iHeartRadio 20/20 album party (yes that is Justin Timberlake's new album… we feel it definitely deserves a party too!) wearing a green and white embroidered dress from the Little Dresses section of the store. Akin to Blake Lively, Emmy also rocks those white shoes like a pro – no hint of Essex style here! We can't fault her look; the chic but slightly messy updo, the glittery eye make-up and even the white manicure all equal sartorial perfection!