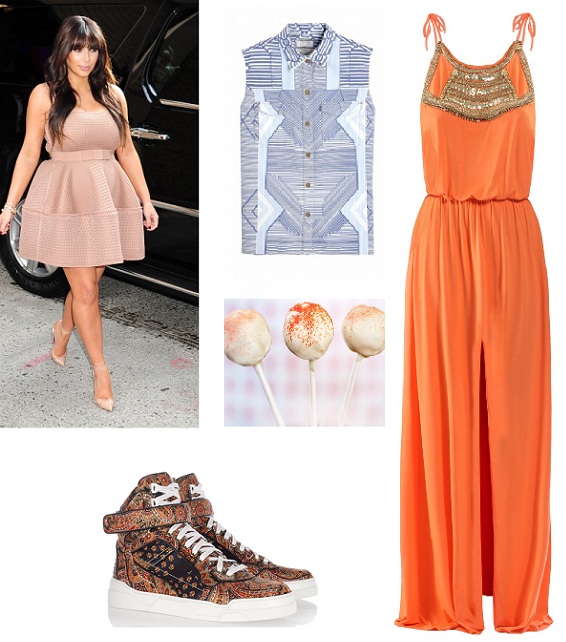 Cool credentials don't come easy for the fash pack, especially when you've got to be 'in the know' about and anything and everything.
Between keeping up with breaking stories, the hottest trends, latest info on the 'It' bag of the season and just what Cara and The Brows have been up to on any given day, an information overload is natural.
So, to ensure all the vital bits reach your eyes, we've rounded up the fashion stories going up and down this month. The only place your news hungry eyes need to feast.
Going up
Mary Katrantzou x Current/Elliott
Staple denim pieces splashed with Mary Katranzou's signature prints, summer denim doesn't get much better than this. Katrantzou has teamed up with super-jean brand, Current/Elliott, to bring you a capsule collection stylishly marrying the best of both worlds.
Sneakers as 'real' fashion shoes
If Michael Kors says it, it pretty much goes. The fashion demi-god recently launched a new collection of sneakers perfect for, wait for it…partying in! We always believed this in our fashion-led hearts after Lily Allen made sneaks 'n' frocks big back in the mid-Noughties, but now a certified fash body has given his approval. Shop the new collection here, or snap up our current haute faves, the Givenchy Printed silk-twill high tops.
Ice cream cake pops
Not satisfied with the normal kind, ice cream cake pops are set to take over your summer favourite, the classic 99. Forget being watchful for sneakily melting ice cream, when you can enjoy the benefits of cake on a lollipop stick. The joy of our taste buds knows no bounds! Check out this recipe to give cake popping a try at home.
Luxe beachwear by Melissa Odabash
A name synonymous with jet set perfect beachwear, Melissa Odabash is once again pulling at our heart strings for summer. The SS'13 collection features fine embroidery and luxurious animal prints, perfect for that far-fetched exotic island you're eyeing up for a vacation. Our top picks include the Sanela embellished beach dress and the Malibu lace up bikini. Now to work on that summer body…
Going down
Style-restricting British weather
Whatever happened to the burning ball of fire in the sky and a cloudless view? Since the weather hasn't really changed alongside our wardrobe, from AW'12 to SS'13, we're not really sure what to do with our expansive (read: overspilling) summer wardrobes. Guess it involves baring the big freeze in that gorgeous new dress after all!
Kim Kardashian's maternity style bashing
Hey, hey, come on now! Maternity style bashing was never cool, and we need to give first time mum Kim a chance. It's her first time, and becoming a pregnancy style doyenne takes practice. And a few kids in tow. Although dressing for your figure is always recommended, even Kanye's missus can have a day off, right? However, intending on calling your child 'North' is an unforgivable crime against mankind.
PJ's as daywear
They're the clothing equivalent of the yawn-inducing, appallingly ripped off Marant sneakers, and frankly, we've had enough. Stop with the bed wear as day wear thing, because we have jeans and tees and cute dresses and smart jackets and envy-inducing heels for that. PJ's are for curling up in bed in, and spending the weekend eating unhealthy toasties and watching guilty pleasure movies!
Emma Watson's midriff-baring body con dress
No. No. No. Julia Roberts slipped into above dress for her role as a hooker named Vivian in Pretty Woman waaaayyy back in 1990. It wasn't a good look then, and neither it is now. The newly sexed up Emma Watson, who graces the cover of the May issue of British GQ, sports a tacky, Nineties-appropriate midriff-baring body con dress that only makes us pine for Hermione even more. Bring back the polished-to-perfection Watson!