Last Updated on 19th October 2013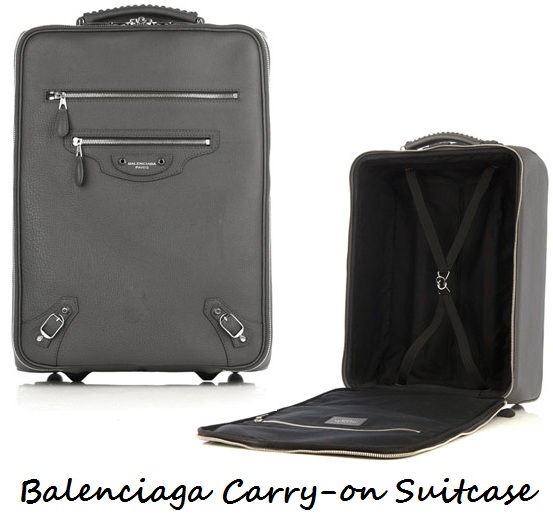 With holiday season coming up we know your thoughts are divided between the 9 to 5 drill, and mentally packing the ideal holiday wardrobe that is set make you the envy of the entire South Beach population.
But, like us, if you're on a limited luggage allowance (highly problematic for fashion gals, we know), a valise, or small, carry-on suitcase, is the best option. And if mental images of sitting on your case in order to zip it up may send you into a pre-vacation panic, with this week's luxury Yay or Nay choice, you'll probably refrain from over packing.
Enter the luxe carry-on suitcase from Balenciaga. Worthy of being a paparazzo magnet, given it's instantly recognisable palladium hardware detailing, you're set to get some envious stares from fellow travellers at check-in.
But coming in at a holiday-fund evaporating £1,625, we weighed up the pros and cons of getting your hands on this piece of luxe luggage before embarking on a Kardashian style airport entrance.
YAY
100% Leather: The ultimate luxe investment if you're looking for a break from unglamorous high street department store cases.
Comfortable carrying capacity: With a 28 inch telescopic handle height, two zipped front pockets, one internal zipped pocket and two internal black elasticated straps, its roomy enough to easily carry essentials for a short break.
Unisex appeal: With its soft grey exterior and gender-transcending hardware detail, we can guarantee the man in your life will get his (perfectly groomed) claws into this case at some point. Just make sure it's not for a lads' holiday!
NAY
Price: At £1,625, this may eat into your luxury holiday budget. Entirely.
Wear and tear: If you're checking the Balenciaga suitcase in, then say a little prayer in your heart. Luggage handlers aren't best known for their sensitivity, and with £1,625 lying on a coveyor belt, we rest our case ('scuse the pun).
Only ideal for light travellers: If you're a serial over packer like us, and pay the painful price of exceeding your luggage allowance, the Balenciaga Carry-on Suitcase may not be the best way to make your hard earned cash work harder. Fashionistas require several outfit changes a day when vacay-ing, so maybe a trusty, 25kg capacity case from good old John Lewis would be a better option.
Balenciaga Carry-on Suitcase, £1,625, available at Matches