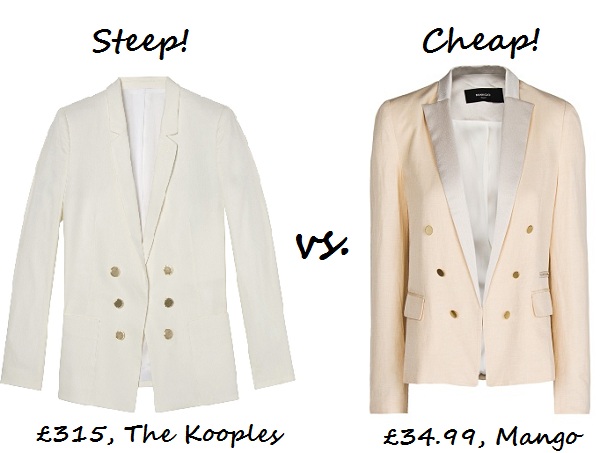 Updating your summer wardrobe means in with fresher, lighter colours and out with the endless sea of winter greys and blacks!
A smart jacket is a wardrobe staple, and the perfect cover up for breezy summer nights, when the last thing you want to do is drag a coat around and show off your favourite cocktail dress at once!
Suckers for anything with a dash of gold-tone hardware, when we spotted this week's steep vs. cheap contenders, we couldn't resist a price tag-off.
Forcing you to dig deep is the double-breasted linen jacket from The Kooples – yep, the brand with campaigns featuring ridiculously handsome couples. The linen-blend fabric is a breathable option for when temperatures begin to creep up, and the gold-on-white has a very jet-set, need-a-vacation-now feel to it. But cashing in at £315, even if your skin isn't sun scorched, your pocket sure will be!
Jet-setters on a budget fear not because we've found the perfect, pocket-friendly alternative! Ringing in at a mere £34.99, this satin lapel double-breasted blazer from high street style haven, Mango, will be like sweet music to your ears (and purse). We're wearing ours with tailored shorts and flat sandals for city girl style.
So, what will it be? Spend or splurge?
Steep: Double-breasted linen jacket, £319, available at The Kooples
Cheap: Satin lapel double-breasted blazer, £34.99, available at Mango