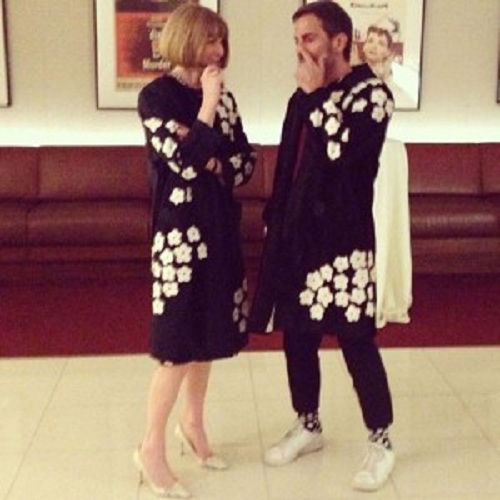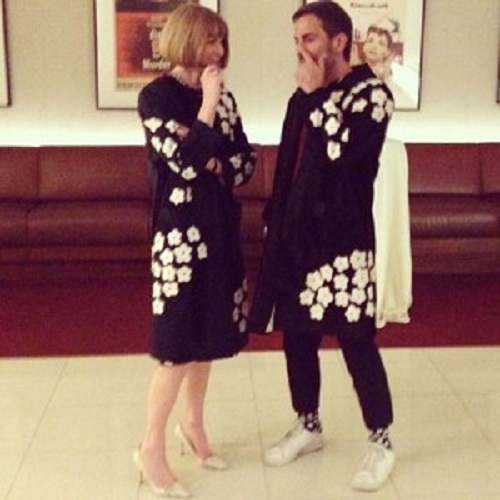 Yes, you read that right. We've stepped into this week's fash-off with bated breath, because it really is so important. And scary.
Last week, at a screening of The Great Gatsby in New York, two fashion gods were united in the same Prada spring/summer 2013 coat. *Cue awkward cough/shuffle*
Anna Wintour, who is viewed as nothing less than the Queen Bey of the fashion world (we mean that in power, not booty, terms), would have you believe she has a firm grip over the who-wears-what at high profile events where she is in attendance, ensuring that she is the only one wearing a particular piece from the latest runway collection.
Yet, upon coming face-to-face with Marc Jacobs in the exact same look, we figure the expression on both their faces reads something like this: 'Have we, I mean WE committed the ultimate fashion faux pas?'
But regardless of this sartorial mishap, the most awkward question is yet to come: who do you think wore Prada better? Naturally, Wintour went her signature elegant way, with dainty heels and a pristine bob, whilst Jacobs brought the fun to Prada (not that Prada needs it ) with printed socks and sneakers.
Safe to say, we're remaining undecided on this one; wouldn't want to experience the wrath of either style deity, frankly speaking!
We'll leave you to decide this week's fash-off champ…
[Image: Telegraph]