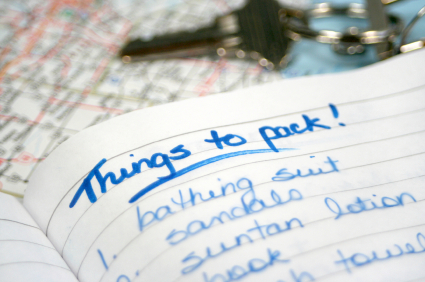 mag
You'll probably be off on your jollies within the next few months, and although the prospect of lying on a deck chair in the Mediterranean sun is quite appealing, we know that what comes before – i.e. the dreaded packing and airport madness – is anything but.
So we are here to offer a helping hand and virtually assist you with your packing with a list of what to pack and more importantly what to leave behind. Bruised arms and excess baggage airport fines will be a thing of the past!
What not to pack:
Your finest handbag. We know not toting your favourite designer handbag on holiday might be a tad depressing, but nothing is more depressing than finding out someone has broken in your hotel room and stolen it while you were necking Sambuca shots in the bar downstairs. Or you've accidentally got sand in it. Excessive sun also doesn't do expensive handbags any good either, so leave your fine accessories at home and opt for something cheap and cheerful instead.
Your Christian Louboutins. Again, packing the things that you've worked months to be able to afford is never a good idea for a holiday where all you want to do is let your hair down and relax. What if the pesky airline loses your luggage? How would you feel about never waking in your fave red-soled beauties again? We can't bear to even think about it!
Hair electrics. Ladies, leave the bulky hair dryers and hair straighteners at home where they belong. The sun will damage and dry out your hair enough without adding heat styling to the mix. Pack a couple of bottles of hair mousse and go for the California beach wave look instead. Your hair will love it, and you can pack a few more bikinis in your suitcase thanks to the extra room.
What to pack:
The ultimate summer dress. What's the best thing about jetting off to a hot country? The fact that you can wear your prettiest summer dress without worrying about a rogue gust of wind or rain.
Gladiator sandals. Not only do these keep you cool, but they will go with virtually anything – dresses, shorts, skirts, the lot! Plus they're a lot more chic and dressy than your average beach flip flops, so you can get away with wearing them in the evenings too!
HTC Desire HD. Ok so even though you are on holiday and want to relax, we know it's virtually impossible to completely switch off. Your HTC Desire HD will help you check in with work if need be, and your friends and family (to boast about how much fun you're having and to send a few cheeky pics of the beach view).
Sun cream and after sun: Don't wait until you land to stock up on sun lotion, make sure you get all your sun care essentials beforehand. You never know how sunny the airport is going to be or how long you'll be waiting for your taxi for. Plus, a lot of sun creams get left out in the sun in cheap holiday kiosks, and you really don't want to take any risks when to comes to protecting yourself from the sun!
Sunglasses: A fashion statement and a sun protecting essential. We know you've been waiting all year to crack out your new designer sunglasses, so don't forget to take them with you when you need them most! Keep them in your hand luggage so you can rock them as soon as those plane wheels hit the runway.