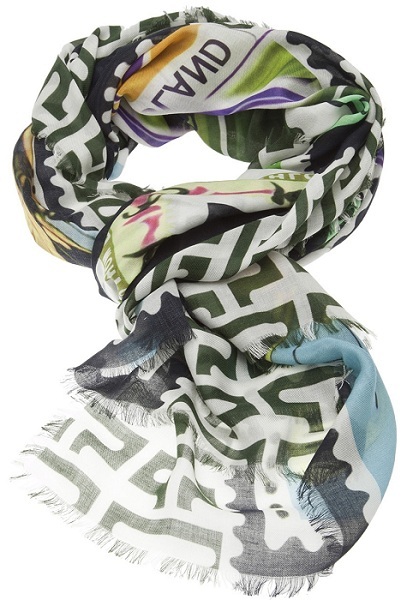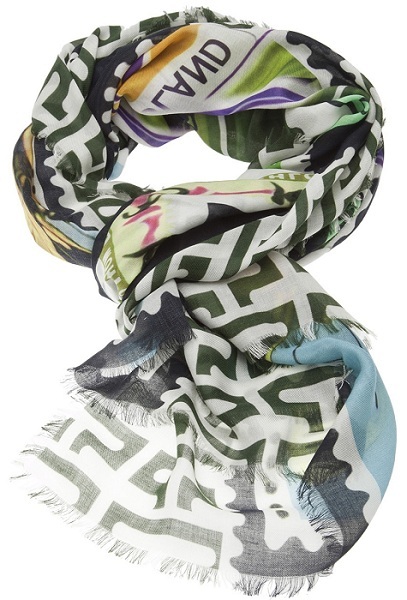 Our saviour in snowy climes, and the accessory du jour when it comes to beautiful, beach appropriate head gear; the humble scarf has come a long way since its yard-a-wool, wintry heyday.
Available in an array of fabrics, styles and prints, the scarf is one of the most versatile summer accessories you'll find in your wardrobe. Go all Carmen Miranda on your fash friends by twisting, turning and embellishing to create an adorned, statement headscarf look, or, pep up a muted ensemble whilst blocking out the cool British weather by wearing it around your neck.
And when we laid eyes on this week's Yay or Nay option, we skipped a heartbeat, or three! Her name is synonymous with delirious prints and mind-blowing silhouettes, and she's mainly responsible for the excitement pouring out of the heart of London's fashion scene. And now, Mary Katrantzou has turned her print-whizz hand to accessories.
But being at the high end of the fashion market means, as delicious as your wares look, as expensive as they really are! Below, we weigh up the reasons for clicking in/clicking out of our imaginary e-basket the Teleport Postage Stamp-Print scarf:
Yay 
Multi-print:  The famed Teleport print from Mary's iconic spring/summer 2013 includes geometric lines running amidst mirrored florals and an enlarged butterfly print. More print than you bargained for!
Go-with-anything accessory: The humble scarf is our ultimate reach-out piece when looking to accent an outfit, and the riot of prints and colour on the scarf will ensure you need nothing else to complete your look. Practicality and style all rolled into one; we're not complaining.
Lightweight fabric ideal for all weather: The fine modal and cashmere blend feels super-soft against the skin and won't give that dreaded bulky look a winter scarf does, making it light and airy for the summer, but warm enough for cooler climes.
Nay
Price: At a bank balance blasting £610, its normal to feel a little choked by the mixed print scarf (strictly metaphorically, may we add!).
Dry clean only: Often composed of very delicate fabrics, investing in high end wares means adopting a very expensive dry cleaning habit. Can you (and your finances) foot the hand/machine wash intolerance this scarf suffers from?
Dimensions: If you're looking for Hermès-esque scarf investment – head, as well as neck gear all at once – then the lengthy dimensions of this scarf may disappoint – 76" x 27", to be precise! Of course, more fabric for you money is always a plus, but if you're looking for versatility when splashing your (rent) money, then this scarf may not be the one.
Mary Katrantzou Teleport Postage Stamp-Print Scarf, £610.30, available at Farfetch