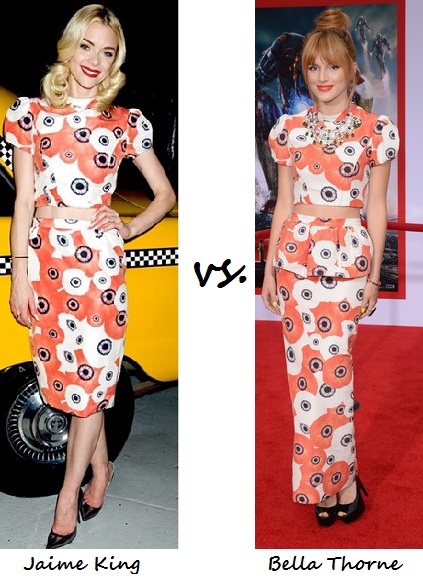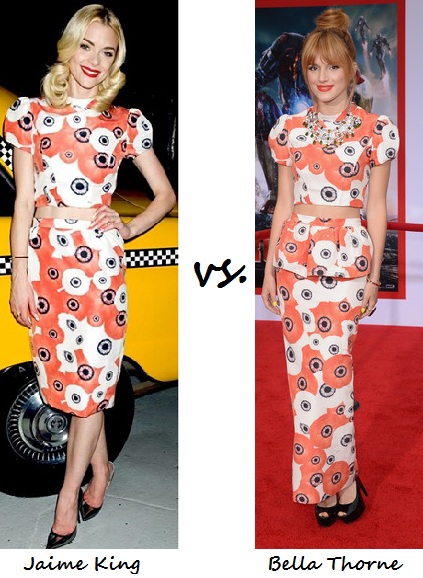 We're suckers for printed ensemble, so when we laid eyes on this week's fash-off beauties, we couldn't contain our excitement!
Spotted in a fabulously printed two-piece from the Kate Ermilio, Jaime King and Bella Thorne battled it out for the title of style champ at two different events, sporting two very different looks.
Although the catwalk look carried a longer skirt, Jaime King snipped the hem, instead opting for a below-the-knee version at the Kate Spade 20th anniversary party, back in February. She also left out the peplum detail on the skirt's waistline. Finishing off her look were glossy curls, black pumps and a strong red lip.
Slipping into the same outfit a few months later in April, Bella Thorne stayed true to the longer catwalk look. Taking to the red carpet for the premiere of Iron Man 3, Bella opted for a statement necklace, top-knot and a punchy lip and nail colour. Black peep-toe heels completed the look.
We love a personal spin on a runway ready look, but it also makes the decision process harder! So, after much deliberation, we're letting Jaime take the style crown!
The all-over print almost swallows up Bella's petite frame, and we think her look would've worked better with a shorter skirt. A statement necklace atop a statement outfit is a bit much; the eyes or lips, not both, rule applies here (well, kinda), and those chunky heels do no favours! Jaime's look is fresh, making us reach for all those printed pieces tucked away in our wardrobes.
Image credits: Jaime King, Bella Thorne