Last Updated on 27th May 2013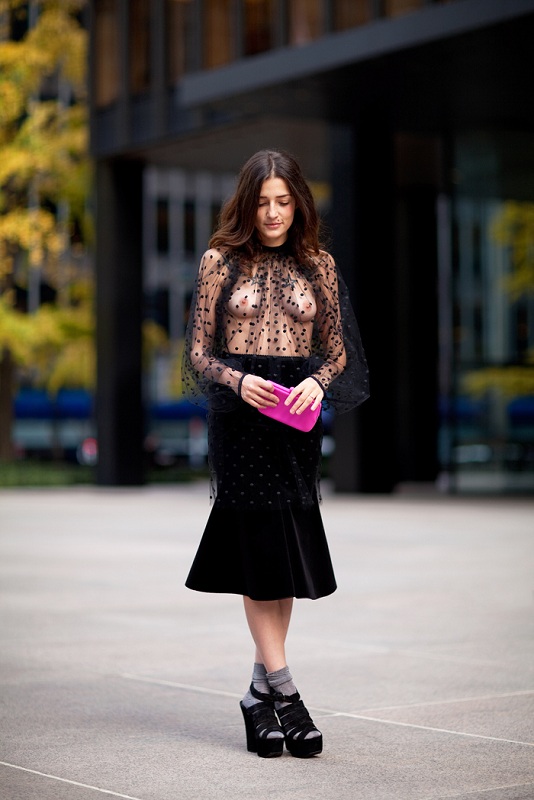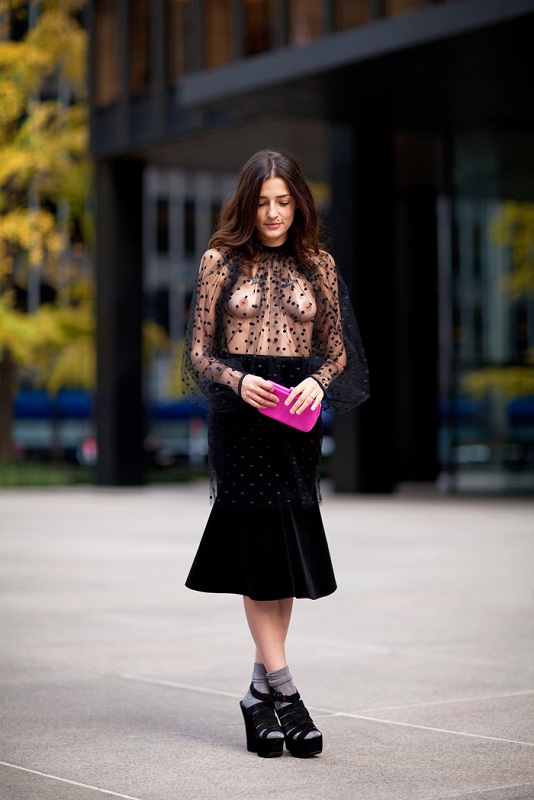 To boob, or not to boob? Well, that's the question on our minds today, as we dissect a very brave fashionista's take on one of spring/summer 2013's biggest trends.
Dangerously extrovert outfits and street style go hand in hand, and given the exhibitionist nature of some street style darlings, a little nip slip is the least of their worries.
One of Mr. Newton's latest camera lens victories (pictured above), Italian blogger and shop owner, Eleonara Carisi could certainly be forgiven for leaving her, erm, bra at home, given that the sheer trend dominated the runways this season.
But is this an awkward visual, or do you think its fine? More importantly, is it wrong to sport no bra in the name of fashion? Whilst you ponder on this, let us remind you that every certified fashion name, from Dries Van Notes to 3.1 Phillip Lim and Haider Ackermann to Reed Krakoff dabbled in the next-to-nothing take on dressing. But sheer wasn't simply transparent for spring 2013, instead given a more wearable quality thanks to a 'veiled' effect of layering and mixing fabrics. Well, it clearly wasn't the way Eleanora had imagined translating this trend….
Without sounding too prudish (maybe it's our inner Brit; we don't know!), we were a little, well, taken aback by Eleonara's breast display, and that too in the middle of New York, and not during Fashion Month either (see: exhibitionist note above).
Seeing full-front boobage in glossy editorials is commonplace, and not an eyelid would bat at the sight of see-through featherweight fabrics swathed across barely-there bosoms on the runway, but what of a normal street style shot of a (normal) blogger in what appears to her to be a normal outfit? We don't men to push it too far, but public nudity is still an offence in Britain, and we suppose the same would go for the States.
But then again, some of you would argue that she isn't nude, but partially clothed, right? Much like a side-boob revealing tank, or a buttock-skimming hemline, but just a little braver?
There's not an ounce of doubt that she's a drop-dead gorgeous woman, with impeccable taste (her blog is testament to that), but we're on the fence about her brazen outfit. Weird stares aside, it also made us think whether the only justifiable time to tackle a look like Eleonara's is during Fashion Month, but at the same time, whether we should let social acceptability impinge on our freedom to an outré wardrobe.
What do you think? Should it? After all, breaking the social  norms of dressing is what allowed Punk to control this year's Met Gala, and for the likes of Anna Dello Russo and Susie Bubble to make wholly inappropriate outfit combinations seem desirable.
Would you do sheer for the sheer thrill of it (pun totally intended)? Tell us below!
Image credit: Mr. Newton