Last Updated on 19th October 2013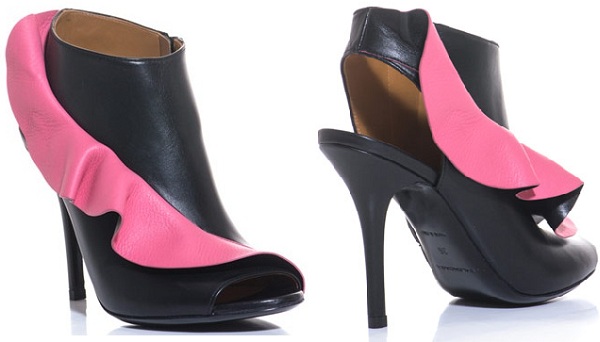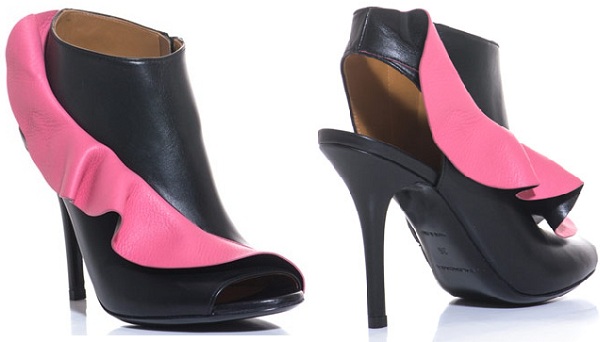 Balenciaga is a brand that sure knows how to start a shoe/accessory-induced frenzy. From the uber-desirable cut-out boots that every fashion body is sporting, to the perennially classic textured stud totes and the sport-meets-sexy sandals we just can't get enough of.
So when we laid eyes on this week's Balenciaga beauty for Yay or Nay, we couldn't stop our shoe hoarding selves from waxing lyrical about the Wave Frill Ankle Boots!
A heel-tastic mash-up of hot pink flamenco-esque ruffles against a classic black peep-toe boot, the Wave Frill Ankle Boot is perfect for shoe lovers looking to inject some fun into their footwear collection.
The sling-back heel strap and four inch stiletto heel brings a sexy sandal vibe, and the jolt of colour the frill detail delivers makes the Wave Frill Ankle Boot the ideal pick for a glam-but-fun finish to any ensemble.
Pair with an off-duty outfit for an interesting edge, or wear with your favourite LBD and minimal accessories, as the Wave Frill Ankle Boot will naturally do all the look-at-me muscle work. But before you click these beauties home, check out the reasons for and against giving into your Balenciag-addiction!
Yay
2-in-1 shoe: Is it a sandal, or is it a boot? The best thing about a shoe that falls into this category: you can wear it as many times, with as many look as you like! Hot with jeans, or a dress, is how heels should be!
Classic colours: Black, for the classic end of the spectrum, and pink to add a grown up girly flash, you won't have any trouble pepping up a muted ensemble with the Wave Frill Ankle Boot.
Stand out from the crowd: After the cut-out boot frenzy, the 'It' boot has peaked, calling for a refreshing change. Snap up the Wave Frill Ankle Boots if you're not one to follow the fashion herd.
Nay
Peep-toe: Nothing beats the pain of submitting yourself to the walk of shame with un-pedicured toes! The Wave Ankle Frill Boots just won't accept winter-ravaged feet, and don't expect them to offer respite from the rain. Soggy feet it is!
Heel height: We're all for a vertiginous heel, but teetering around in four extra inches of height all day can be a painful task. Think long and hard about your heel pain threshold before slipping into these.
Price: At £515, they're not exactly the definition of pocket-friendly, even though they promise to score you serious sartorial brownie points.
Balenciaga Wave Frill Ankle Boots, £515, available at Matches Fashion