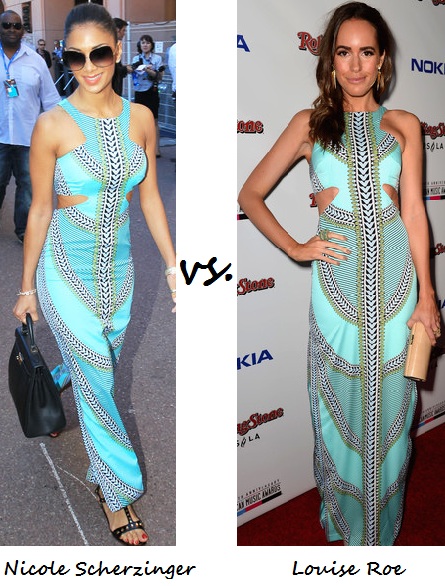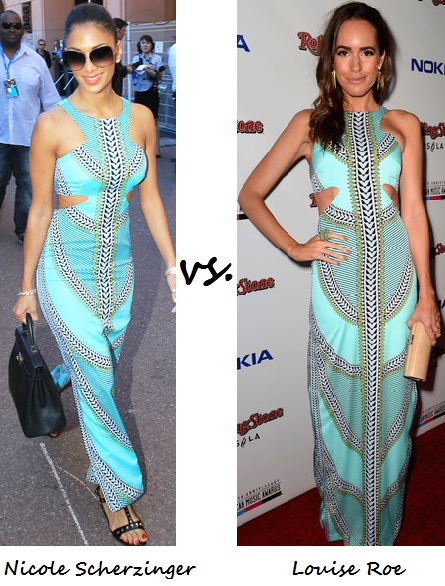 Ah, the arrival of summer can only mean a flurry of envy-inducing, bod-hugging dresses that leave us wondering why we cancelled that gym membership. But then again, we could just forget about the ab crunches and instead talk about this week's ensuing fash-off between two dress doyennes.
In the battle of the dresses this week, both Nicole Scherzinger and Louise Roe took a liking to the Mara Hoffman shield print maxi dress, and gave us two very stylish looks.
Scherzy stepped out in the Mara Hoffman maxi in Monaco, to support beau Lewis Hamilton at the 2013 Monaco Grand Prix. Making the most of the glorious sunshine, Nicole styled the dress with studded flat sandals, oversized sunnies and a classic Hermès Kelly bag.
Beating Hamilton's missus to it was Louise Roe, who sported the very same dress to the Rolling Stone magazine American Music Awards VIP after party, back in November 2012. Bringing a splash of print to the red carpet, Ms. Roe styled her look with a nude box clutch and statement earrings.
But whose look takes the prize? Although both ladies styled the shield print maxi dress to perfection for the events they were attending; we're giving this week's fash-off champ title to…Nicole Scherzinger!
We're a little sensitive to the wintry climes at present, and anything that reminds us of an easy, breezy holiday wardrobe is a winner. Nicole's look is perfect for a sun splashed outdoor event, and although Louise looked fab, too, the pretty print and summery colour is wasted on the red carpet.
Do you agree?
Images: Nicole and Louise, Zimbio