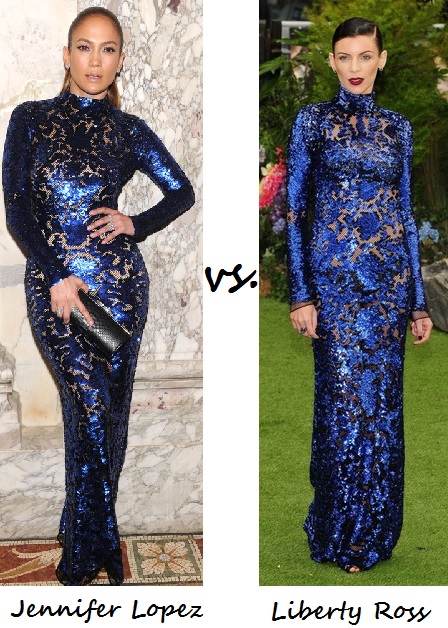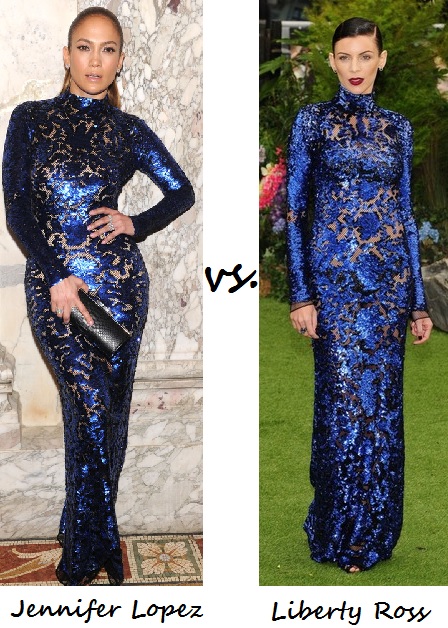 It's a frock-off between two painfully stylish divas this week, and a serious one at that.
Checking in, in a pop-yer-eyes-out, curve-skimming sequined Tom Ford spring/summer 2011 gown this week is the diva of all divas, J-Lo, and strikingly beautiful Brit model, Liberty Ross.
Dazzling at the 4th Annual amfAR Inspiration Gala in New York earlier this month, Jennifer Lopez looked a disco ball vision (in a good way, of course!) in the stunning sequined gown.
Oozing sexy glamour, the gown took to Jen's famed curves like a glove, as the superstar opted for a slicked-back ponytail and neutral makeup. Finishing off her gorgeous look was a black python clutch and Harry Winston jewels.
However, quicker than Ms. Divalicous was home-grown beauty, Liberty Ross, who donned the same Tom Ford gown back in May last year, when she attend the UK premiere of Snow White and the Huntsman.
Liberty's look screams elegant-with-a-gothic-slant, thanks to the dark berry lips, dark nail polish and deep-parted bun. Although she's more narrow-framed than Jen, Liberty's stunning features and tall frame bring the game to the red carpet.
But whose look wins the fash-off title for you? It's a difficult one for us to decide on, as both ladies look breathtaking, but being the appreciators of curves that we are, we're sticking with J-Lo on this one. Nothing sits better on an enviable frame like Jen's than a form-fitting Tom Ford creation!
Whose look was a winner for you?
[Images: Zimbio]