Last Updated on 28th June 2013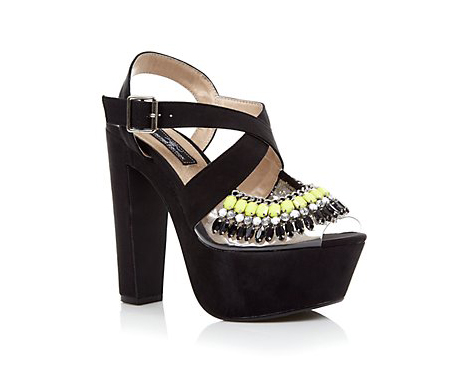 For many women, the high-heel is a work of art, elevating an outfit to a new height of fashion. A great pair of shoes can create poise, posture, and can elongate those legs to new levels.
It's time to bring a bit of fun to your footwear this week with this pair of New Look sandals. With an all over soft black finish, cross strap design with buckle fastening and fabulous neon embellishment on top of a layer of trendy clear plastic, these platform sandals are a style winner this season.
These shoes are enough to dress up any summer evening outfit, bringing a burst of sass and individualism to your wardrobe.
New Look has been a true winner this year as the store was proudly awarded 'Best Shoes' at Lorraine's High Street Fashion Awards last month, and walked away with the prize for the third year running. This proves you will not go far wrong when opting to buy your next pair of shoes from New Look.
Style tip: Wear with a little white dress and matching coloured neon accessories.
Limited Black and Neon Green Embellished Platform Sandals, £34.99, New Look