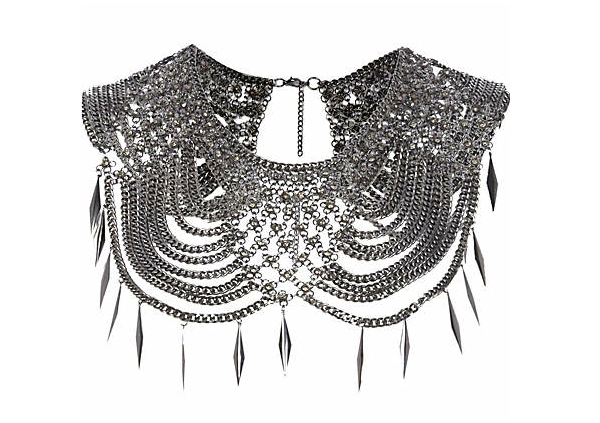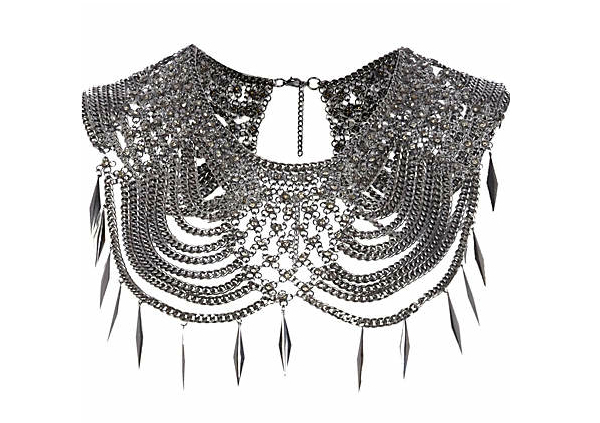 When you receive an invite to a party and the occasion has you thinking of an outfit, do you ever wish your style could shine through your accessories instead of, say, a dress or a top? Well this fiercely striking silver tone metal spike chain cape necklace from River Island will definitely do all the talking, and will completely and utterly transform even the simplest of party looks. We mean, just look at it!
It is officially time to totally embrace your inner rock chick to the max this season with this beautifully designed metal chain and glass-structured accessory.
Have this fashionably draped around your neckline and you'll not only feel like a million dollars, but you will be dripping with style, along with receiving more than a few compliments all night long.
This creation features layer up on layer of metal chain work, delicate glass detail, spiked droplets hanging down around the whole garment and a centrepiece of yet even more fabulous diamond shaped metal detailing. We'd say you'd be wearing a real work of art!
You'll make the ultimate statement with this impeccably detailed chain cape necklace at any party. An ultimate style winner? We think so!
Silver Tone Metal Spike Chain Cape Necklace, £70.00, River Island.