Last Updated on 22nd July 2013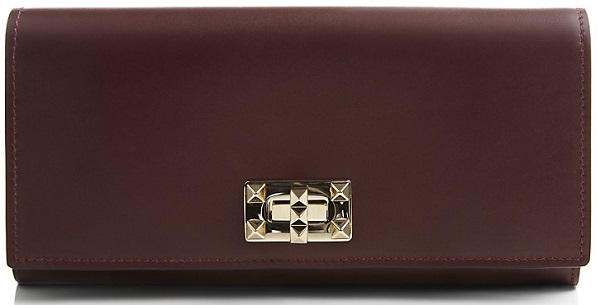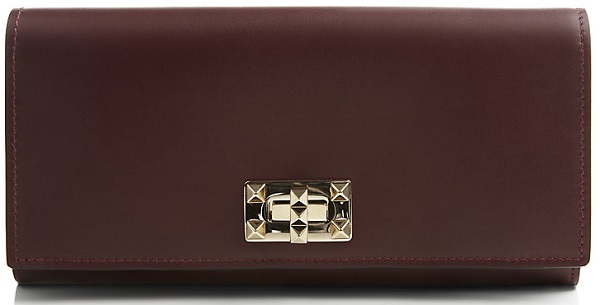 The embarrassment associated with whipping out a battered purse is like no other. It's served you well over the years and, effectively, holds your life in its overused compartments, so it is only right that it should be an investment, no?
Landing on our Yay or Nay radar this week, the Valentino Rockstud leather wallet has got us wondering about its purchase potential. Suckers for eye-pleasing accessories, the Rockstud wallet brings to the table all of the desirable qualities of the famed Rocktsud tote collection: luxurious leather, gold tone studs and an easy mix of tough-luxe.
But being the savvy shoppers you are, you're not going to succumb to the studs so easily, are you? Or are you? Well, if you do, just make sure to check out the reasons we're saying Yay and Nay to the Valentino Rockstud leather wallet below!
Yay
Transitional colour: As we head into fall, the deep wine hue will work perfectly with your autumn/winter wardrobe.
Practical yet stylish: Adored with the gold-tone Rockstud embellishment, and featuring 10 card slots, two note slots and one internal zip compartment, the Valentino Rockstud leather wallet mixes style and substance effortlessly!
Pure leather: Nothing beats the longevity that comes with 100% leather accessories – they only get better with time!
Nay
Price: Sitting steep at £345 a pop, the Valentino Rockstud leather wallet will, ironically, cost more than the cash you keep in it! Treating it as a long-term investment may soften the financial blow. (We hope.)
Temptation to buy matching tote: If you love playing match with your accessories, expect your bank balance to be down by a further £1,345 if you decide to snap up the accompanying Rockstud shopper.
Trend centric: As much as we love the Rockstud appeal, it has acquired 'It' bag (read: hot right now) status over time, and may not be the best thing if you're looking for a classic investment.
Valentino Rockstud lock wallet, £345, available at Harrods