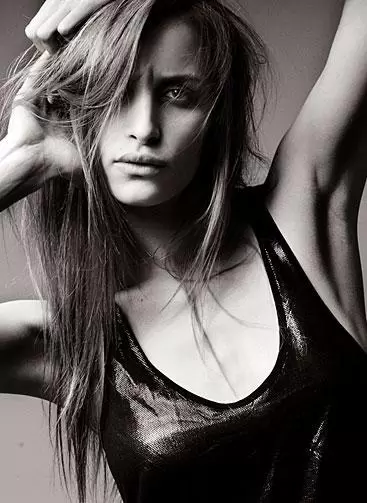 There was a time when the world didn't know who Cara Delevingne was, but the world soon learnt. And now we think Gemma Aicha Refoufi could very well be on her way to becoming the next Cara D.
Cara got he big break when she posed for Mario Testino in her first Burberry ad campaign, and Gemma definitely had us paying attention to her when she appeared alongside Soo Joo, Zuzanna Bijoch and Herieth Paul for Tom Ford's eccentric, Andy Warhol inspired autumn/winter 2013 ad campaign which the designer photographed himself.
Gemma was born in Britain, but is a mixture of nationalities which probably contributes to her unique and stunning beauty. She was discovered by IMG Models, whose books boast the likes of Kate Moss, Miranda Kerr, Karlie Kloss, Gisele, Heidi Klum, Tyra Banks, Irina Shayk, Rosie Huntington Whiteley and more. So basically, she's in good hands!
And speaking of Mossy, former Vogue Paris editor-in-chief Carine Roitfeld told Gemma that she could very well be the next Kate Moss, which is pretty much the biggest compliment any aspiring model can receive.
We think you should remember the 24-year-old British model's name because we predict you'll be hearing a lot more of it in the not-so-distant future. You can follow her on Twitter (@gemrefoufi) to be kept in the loop.