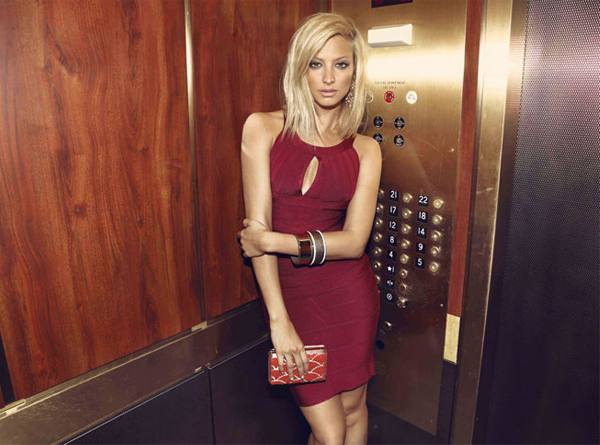 Well openly admit that we tend to roll our eyes when we see certain female celebs (ahem Britney Spears) wearing their bodycon dresses again and again (and again).
Don't get us wrong, we love bodycon and bandage dresses – especially the iconic Hervé Léger  ones – but we just like a bit of variety on the red carpet.
However, unlike the celebs we don't have an unlimited supply of cash so we don't really have that problem… although we have some good news. Hervé Léger is officially launching on The Outnet today, which means those iconic dresses are becoming a damn sight more affordable. Hooray!
You probably don't need us to convince you how awesome they are, but just in case, here's what campaign model Annabelle Dexter-Jones (above) had to say about the iconic dress…
"I think the great thing about Herve is that while it shows your figure, it's always flattering," she said. "I think that it's a great dress because you don't have to worry about that. There's something about the material that keeps everything together. That's why it's so perfect."
Agreed! Now, as long as you pinky promise that you won't go crazy and vow never to wear another style of dress ever again, we recommend heading to The Outnet right now and snapping a few up before they go. A sartorial investment if ever there was one!