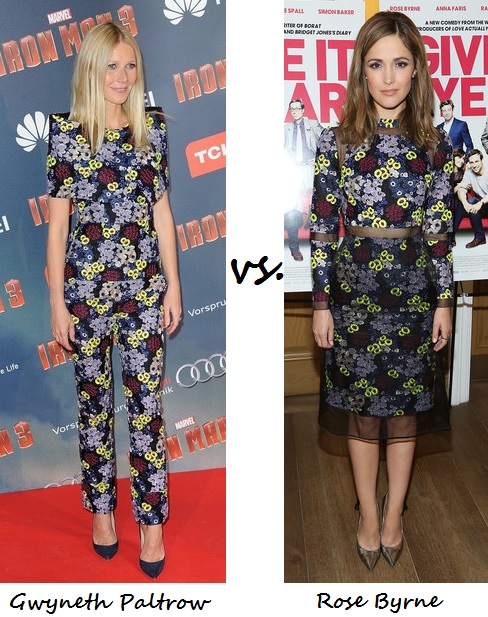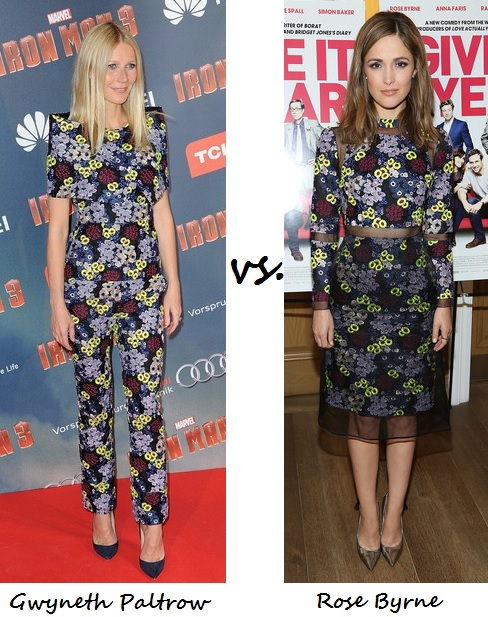 Ah, a floral ensemble we do love! Nothing beats the usual summery thrill associated with slipping into a sartorially acceptable bouquet, but this week's fash off contenders make the case for winter florals all the more stronger.
Sporting a same-but-different look from Erdem's blooming floral-printed autumn/winter 2013 offerings, A-listers Gwyneth Paltrow and Rose Byrne took to appearing at red carpet events with the sole intention of turning quite a few heads. (naturally)
First up, Gwyneth took to the Iron Man 3 Paris premiere red carpet, back in April, in the matching, sharp shouldered floral-printed top and trouser ensemble.  The lithe limbed Hollywood royal looked radiant, with straightened glossy locks and neutral makeup, allowing her flowery look to take centre stage.
But looking equally bloomin' gorgeous was I Give It A Year starlet, Rose Byrne, who attended a special screening of the film in New York in July, wearing the dress version of Gwyneth's look. The pretty frock features black chiffon inserts and chiffon overlay on the skirt, which suitably amps up the darker mood of her look to perfection. Pointed pumps, soft curls and nude make-up rounded off Rose's look nicely.
Although it's a tough one, as the different takes on the same base print are equally desirable, there can only be one winner. And this week, we're crowning…*drum roll, please*…Rose Byrne our fash-off champion, because we love the moody edge her otherwise twee dress exudes. Gwyneth's look is striking, too, but a bit too much to take in at once.
Do you agree with our verdict? Whose look do you like?