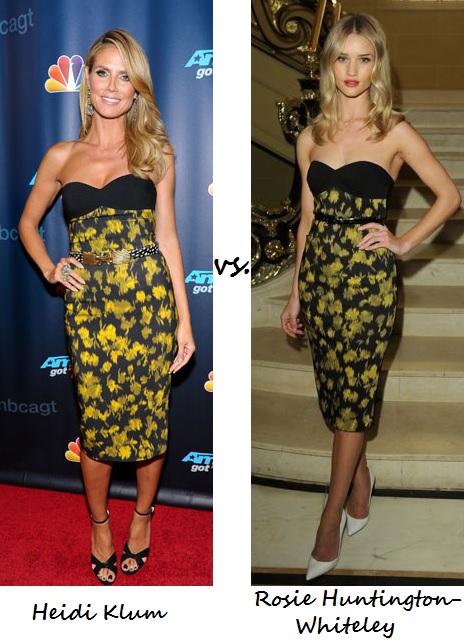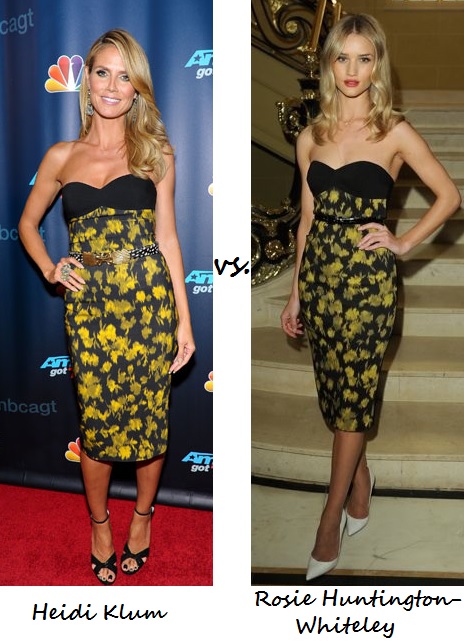 Pre-fall dresses are ferociously doing the rounds and this week's gorgeous duo knocked us for six in a stunning Michael Kors number.
Sporting the same look, leggy lovely, Heidi Klum and glossy-locked beauty Rosie Huntington-Whiteley are battling it out in a form-fitting, pre-fall 2013 strapless pencil dress. Showing off to full effect their equally enviable bods, the models put their own spin on the pretty dress.
Getting first dibs was Rosie H-W, who attended a dinner hosted by Vogue in honour of Michael Kors, back in April. Styling said dress with a thin black belt and white pumps, Rosie opted to finish the look with tumbling curls and a (knockout) berry-hued pout.
But giving Mr. Statham's beau a run for her money was Heidi Klum, who wore the same dress for an appearance on the America's Got Talent red carpet in July. Heidi paired the leaf-print dress with Jimmy Choo Jada sandals, statement earrings, a cocktail ring and a metal clasp belt.
With both ladies making it near impossible to choose between them (have you seen those never ending pins?!), it's a challenge. But there can only be one champion in this frock-off, and this week we're going with…Rosie!
Opting to recreate the runway look, Rosie's look is simple yet striking. It looks 'put together' without trying too hard, whereas Heidi's clashing accessory overload is too much against the print-saturated dress. Without the heavy belt, she would've nailed it.
Agree with our fash-off verdict? Whose look do you prefer?