Last Updated on 19th October 2013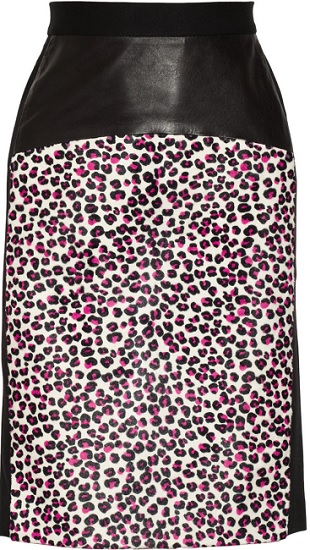 A perennially classic find in any wardrobe, the pencil skirt is back with a vengeance for fall. Enveloping the hips to give a Gisele-like svelte impression, the right one can transform an office or off-duty wardrobe immensely.
So when this gorgeous DKNY leopard-print pencil skirt (£780) landed on our style radar, we weren't about to let it slip. Introducing a fresh take on the hit snow leopard-print of the past few months, a luxurious leather trim is expertly combined with impactful, pink leopard-print calf hair for an updated take on this hero piece.
Worn casually with a tee and jewels, or dressed up with a silk blouse and heels, you could even get away with wearing this winning number to work. But as with most splurges, we're not just going to whip out the plastic and be done with it! Carefully calculated clicking-home is a must, and that's why we've rounded up the reasons we're saying yay and nay to the DKNY leopard-print pencil skirt:
Yay
Classic piece: Great for work or play, a pencil silhouette is one of the easiest dressy items in your wardrobe to style. Form-fitting, it works well with tucked in silk blouse, or, worn with a casual tee and statement necklace, turns cocktail o'clock into a stylish affair.
Ideal length: With the DKNY leopard-print skirt just grazing the knee, you won't fall into scary mini skirt territory, and, if you're unsure of rocking the slightly longer midi length, then this skirt is the perfect halfway house.
Day-to-night: Whilst the strong presence of black has a taming influence, a splash of bold pink means this skirt is the perfect contender for that impromptu get-together.
Nay
Trend-centric: Snow leopard-print has been big for quite some time, offering a great alternative to classic leopard. But, given its a twist on a classic, puts it into the trend category – do we sense a one-wear-then-despair situ?
Price: Is forking out £780 going to prove problematic? Better get onto doing your cost-per-wear homework, sharpish!
Not a lotta leather! Considering you're splashing out approximately one months' worth of rent on a skirt, does a mere trim of leather suffice? If you're looking to invest in the luxe fabric, you're not promised a lotta leather with this one!