Last Updated on 11th October 2013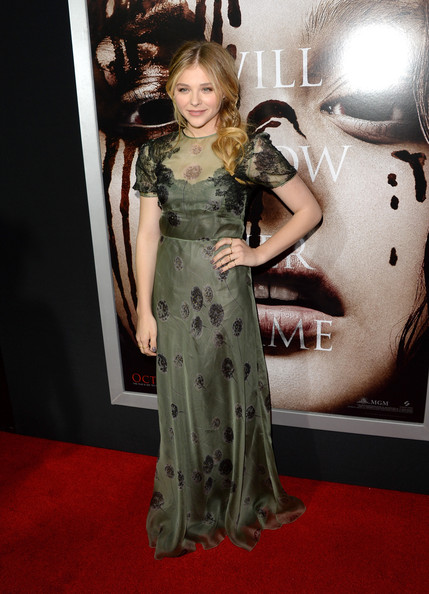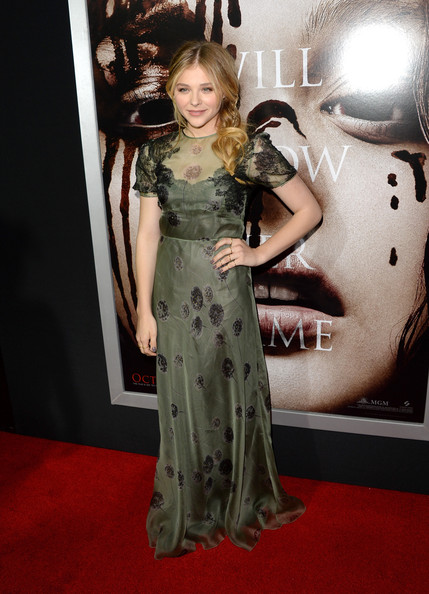 Disclaimer: It is with a very heavy heart, that we're including a Valentino gown in this week's Worst Dressed. The luxury Italian fashion house can do no wrong when it comes to the red carpet, but there's something about this week's look that doesn't sit right with us.
Taking to the red carpet for the premiere of her latest movie, Carrie, Chloë Moretz slipped into a sheer green Valentino gown, complete with beautiful lace appliqué and a dreamy dandelion print. (See, we just can't bring ourselves to talk badly of it!)
But, we're not convinced the 16-year-old was ready for this look just yet. A little on the grown-up side; we think the sleeves and high neckline belie her tender teen years, and the frumpy waistline area gives the gown almost 'mumsy' appeal.
Maybe, if the sleeves were snipped off and a belt thrown in for waist-cinching effect, along with a clutch, this otherwise gorgeous gown could've worked for the young A-lister. But given its Autumnal colour and dark detail, the gown is a little too beyond her years.
Major props for the messy braid and super sweet make-up, though; Chloë's sure blossoming into a seasoned red carpet doyenne!
What do you think of Chloë's look? Tell us your thoughts below.
[Image]