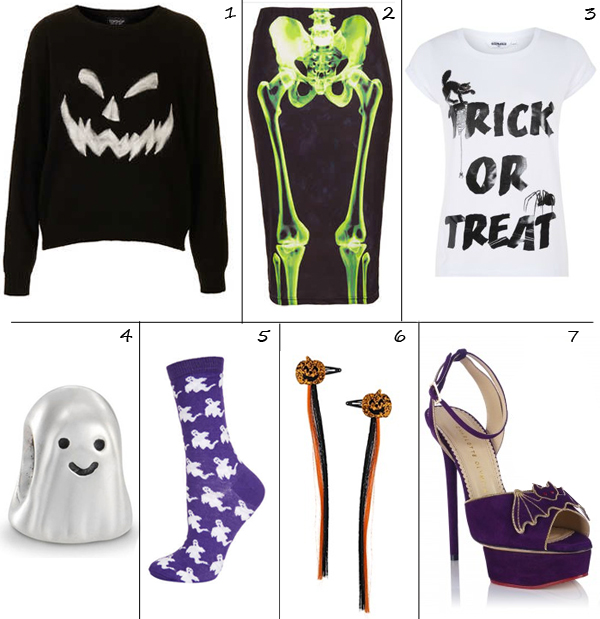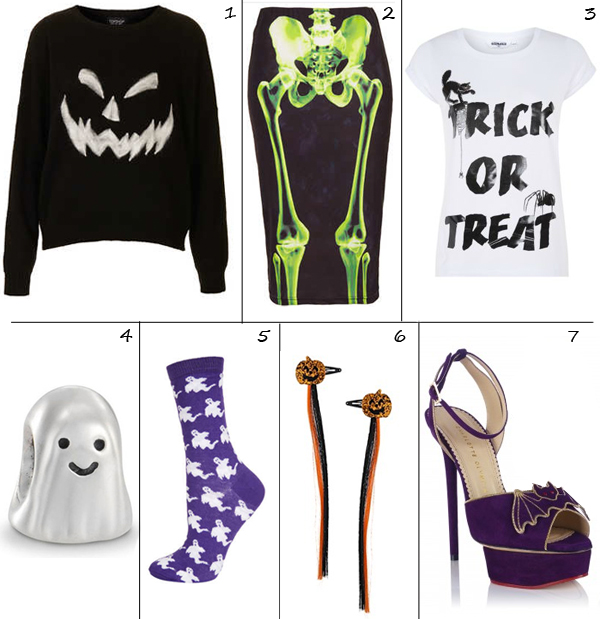 Yes Halloween is once again upon us, which means it's time to start carving the pumpkins and stocking up on the sweeties for yourself the trick or treaters.
As well as prepping your costume (it doesn't matter if you go spooky or slutty a' la Mean Girls) ahead of the big party you're attending, we know you'll want to get into the Halloween spirit with your everyday-wear too.
So, here are some Halloween inspired pieces that are totally acceptable to wear in the day, night, or even to the office if you so choose.
1. Trick or treating at the end of October can be chilly business, so what better way to keep warm than to snap up this pumpkin jumper? Topshop knitted pumpkin face jumper, £38
2. This skirt would look great at Halloween, but wouldn't look totally out of place on any other day, either. If Alexander McQueen can make skulls work all year round… Topshop skeleton print tube skirt, £22
3. Keep it simple and literal in this white tee that gets straight to the point! New Look Trick or treat Halloween tee, £6.99
4. This little guy doesn't look like he would scare anyone, but we'd love to wear him on our wrist the whole year round as opposed to just on Halloween. Pandora silver ghost charm, £25
5. One of the many Halloween inspired socks in the Topshop range this season – a nod to the holiday the subtle way! Topshop purple all over ghost socks, £3.50
6. Forget hair extensions and spraying your hair ghost white, these hair clips are all you need to jazz your barnet up! Matalan pumpkin fake hair clips, £2.50
7. Charlotte Olympia's Halloween collection is simply to die for; whether you want heels, slippers or even a pumpkin shaped piece of arm candy there's something in there for everyone. These purple pumps however, are our complete and utter favourites! Charlotte Olympia Nocturnal heels, £745