Last Updated on 1st November 2013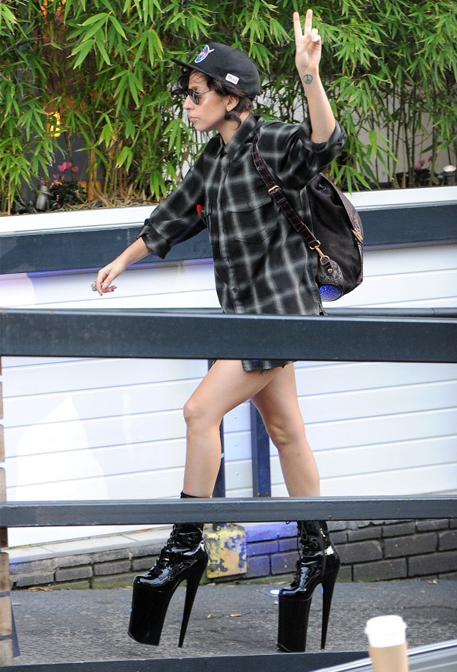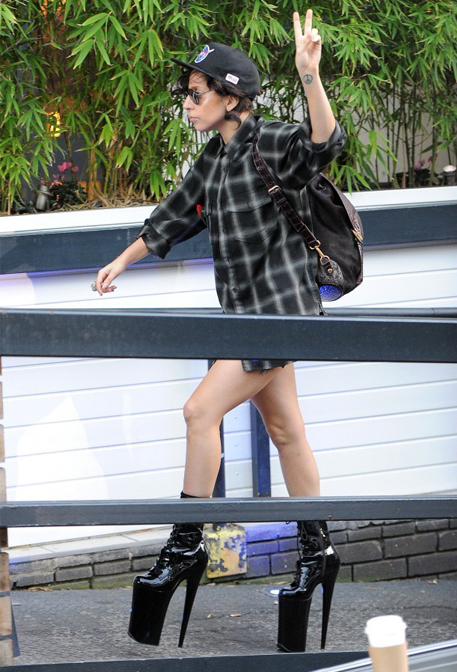 You can always count on Lady Gaga to make the headlines with her sartorial choices.
Whether she's walking a red carpet in her most outrageous attire or just going about her daily business, she does her best to make sure she doesn't ever fade into the background. Take her recent appearance at a London recording studio for example…
Mother Monster visited a London recording studio earlier this week looking relatively dressed-down and, dare we say it, normal from the knees up. She wore an oversized plaid shirt (a big trend right now in case you didn't know) and completed her casual look with a baseball cap, sunglasses and a rucksack.
We couldn't help but notice her insanely high PVC platform boots though, and as a result, found ourselves holding our collective breath and fearing for her face/hips/general life.
We assume that no news is good news and she hasn't fallen down in them and had any PVC platform boot accidents, so we guess she's becoming a bit of a pro! Kudos, Lady G!
Would you wear Gaga's boots? Do you like her "casual" look?