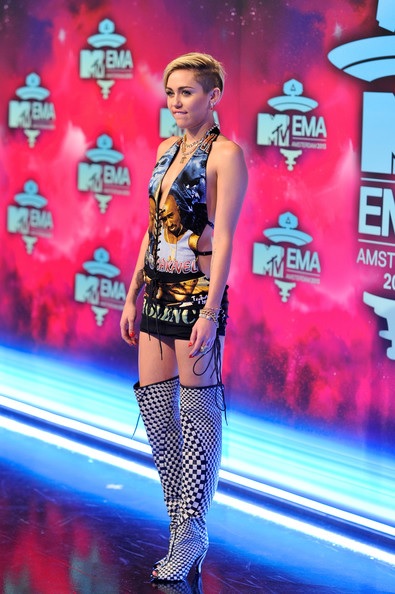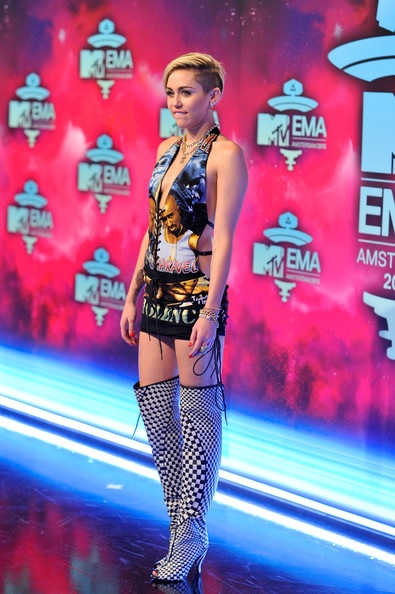 Crikey! Miley Cyrus has been busy recently, upstaging her twerking antics at this year's MTV EMAs with a rather, erm, questionable outfit. But, then again, did you expect anything less (revealing) from Miley CRay Cyrus? (Sorry, we just had to!)
Suspicious smoking materials aside – we're still recovering from that on-stage light up – Miley made sure pretty much every photog's lens was focused on her taut existence, while everything about her outfit forced the knots in our stomachs tighter. After all, her affection for dressing up without clothes seems like a habit that will die hard, and we're not too surprised.
Rocking up on the red carpet in a New York Vintage halter neck dress, featuring images of legendary rap rivals Tupac and Biggie plastered across her tiny body, Miley looked, well, like Miley! Could this have been an ode to her recent liaison with the rap world? Or, maybe, she was subliminally hinting towards ending a feud; the one between her and the world?
Well, whatever her intentions, she sure got us talking. Accessorising with the usual smattering of diamond and gold chains and an air of 'don't care', strong brows, a side-swept crop and monochrome over-the-knee-boots Tom Ford boots from the Fall 2013 collection completed her look.
Although we're digging the boots – they could totally work with an oversize knit – that dress, with its tacky lace-up detail and face prints that remind us of Spice Girls concert merchandise are a BIG no. No. Just no.
Who was your Worst Dressed of the Week? Did anyone top Miley?
[Image]