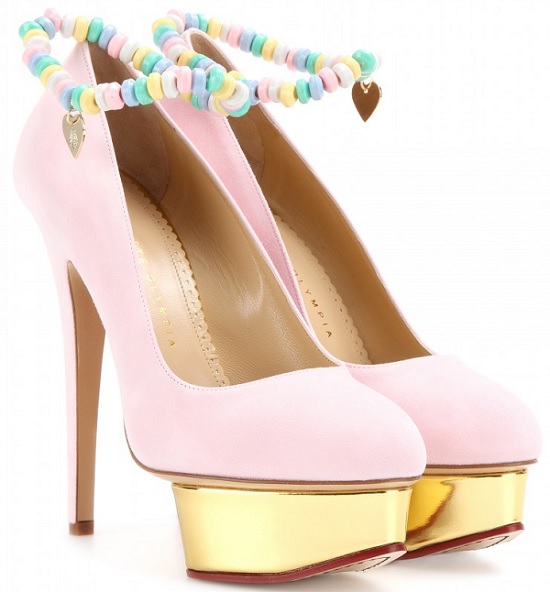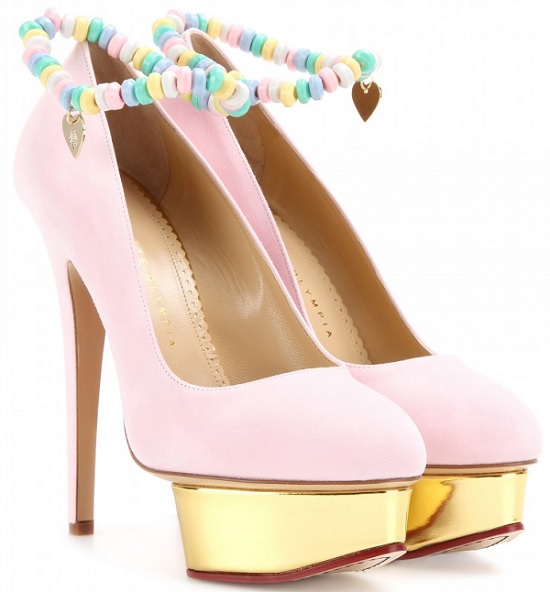 Safe to say, we've found a new kinda candy crush this a.m., and it looks nothing like an addictive game! Enter, the heart rate (and blood sugar level) raising Charlotte Olympia Sweet Dolly pumps (£658).
The shoe genius has done it once again, and enticed us into the candy store of all candy stores (the one-click-away shoe section), not to mention made us want to adorn our feet with the best in retro sweeties!
Reinventing the signature Dolly pump with a sweet shop spin, the Sweet Dolly pumps feature a candy-floss pink suede exterior, decorated with an optional, faux-candy ankle adornment, that'll see you reliving sweet childhood memories with a well-heeled (pardon the pun) edge.
Need a little help deciding, before letting your sweet tooth run riot? Check out the reasons we're saying Yay and Nay to the Sweet Dolly pumps below:
Yay
Classic Style: The Dolly pump is Charlotte Olympia's signature style and its instantly recognisable appeal make us want it even more!
Easy-to-wear colour: After the season's biggest hit – the candy-floss pink coat – why not let this shade supreme rule over your shoe closet, too?

Optional ankle adornment: Not feeling a retro revival? The optional faux-candy ankle adornment can be detached, for when you're feeling ultra-sophisticated. Just remember not to eat it!
 Nay
Super-high heels: At a staggering 5.5 inches, you'll be tottering above the rest of your friends for sure! These heels are definitely for those who've mastered the art of staying upright in vertiginous heels.
Price: At a not-so-small £658, the Sweet Dolly pumps certainly won't be the cheapest addition to your shoe closet.
Weatherproof: Ah, good ole' suede: the not-so-splash-proof fabric of choice. If you cried at your black suede boots getting destroyed by surprise downpours, then suede in the softest of pinks may not be your best bet.
Charlotte Olympia Sweet Dolly suede platform pumps, £658, available at My Theresa.