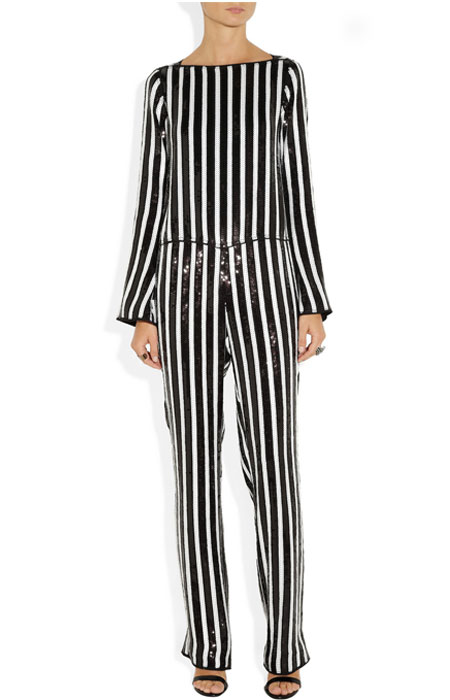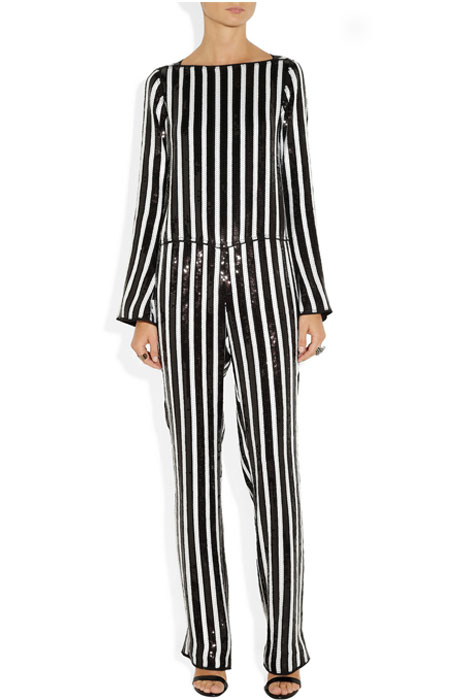 What's better than a dress? Why a jumpsuit, of course!  And one complete with Beetle Juice stripes, splashed in glistening sequins is, well, oh so chic. The perfect replacement for the predictable cocktail dress; hit the holiday season party circuit in this striped Marc Jacobs jumpsuit, and you're guaranteed to be several style miles ahead of the fash pack.
Hardly requiring any help, this look-at-me jumpsuit does all the talking – and, given it's the handiwork of Marc Jacobs, your fash cred is already in the clouds. The head-to-toe stripes, disco-ready embellishment and suitably louche fit make for an ideal after-hours look; just pair with super-high sandals and an understated clutch for carrying essentials in.
Stuck on the stripes 'n' sequins, or not too sure about sporting a stare-at-me look to the next party you attend? Before whipping out the plastic and parting ways with your hard earned cash, check out the reasons we're saying Yay and Nay to the Marc Jacobs striped jumpsuit below:
Yay
Pass-it-on piece: Believe us: thanks to its collectible quality, this jumpsuit will fast acquire heirloom status – be it from your best friend or future child(ren)!
Classic monochrome:  Although monochrome stripes exploded in spring/summer 2013, the trend has stayed in our wardrobes ever since. Nothing quite beats the yin and yang a black and white evening ensemble brings!
Easy to style: If you're not feeling brave enough for a stripe fest, wear with a sharp tuxedo jacket for a toned down evening look.
Nay
Price: At £1,868, you're finances won't look as fashionably fine as you will, after snapping up this jumpsuit!
Potentially unflattering: We've all heard the horror story of horizontal stripes adding inches to your hips, but vertical stripes? Well, unless you're a lover of sky high heels, a lot of leg is needed to avoid that dragged-under-heels look.
Fussy for a night out: Awkwardly enough, a wild night out with your BFFs may not seem so fun when having to unzip out of this jumpsuit every time nature calls!
Marc Jacobs striped sequined chiffon jumpsuit, £4,670 £1,868, available at The Outnet