Last Updated on 26th November 2013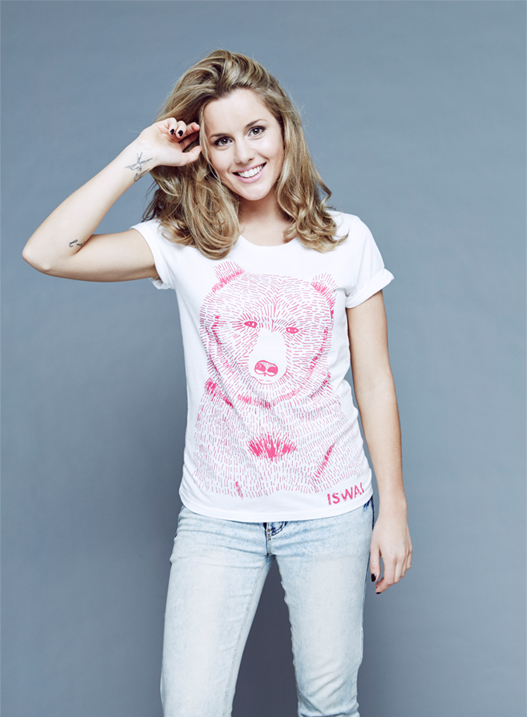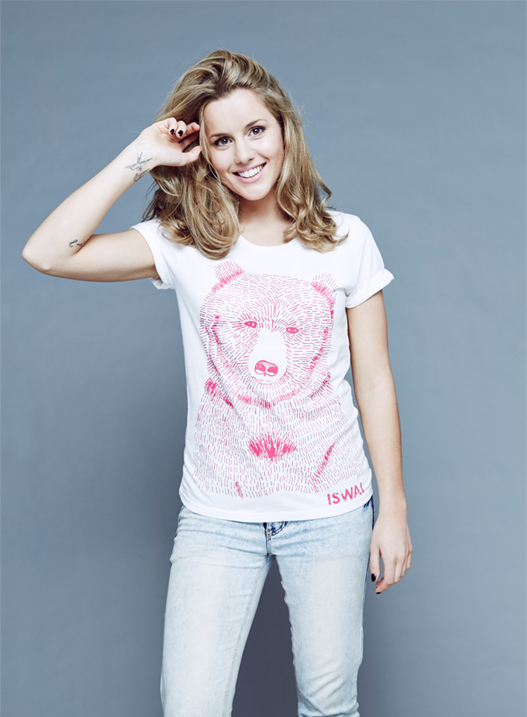 It's no secret that we love getting behind new designer talent, and we aren't the only ones!
Singer, actress & fashion entrepreneur Caggie Dunlop feels the same way too, which is pretty much why she started her label ISWAI. (That's "It Starts With an Idea", just in case you didn't read our post about it back in 2011) That, and of course her love of style and fashion!
Caggie took time out of her busy schedule to sit down with us and talk us through her ISWAI vision, dish out some style advice for the upcoming party season, and much more.
Here are a few highlights from our chat with Caggie Dunlop:
How would you explain ISWAI to someone who hadn't heard of it?
ISWAI is an innovative brand that harnesses and platforms young designers, to give them exposure in a difficult industry. It is very much an extension of my style that is the continuous theme, which I'd like to think is fashionable, yet practical.
One of your designers Michael Robinson has just moved to Balenciaga – you obviously gave him a good reference! What few words did you say about him? What did he bring to the ISWAI table?
Michael is great, he really represents everything you look for in a designer, we were so obsessed by what he sent in. It was hard to choose from his designs. He has a unique eye and a quirky style that separates him from a lot of other people. It's great seeing his career going from strength to strength.
You like introducing new talent which we think is great for giving budding new designers a platform. Why are you so keen on new faces?
Because I can empathise with them. It's tough trying to break into the fashion industry, and I've found from the people I've had the chance to work with that they are more hungry and dedicated to their art.. And that's a good energy to have around.
Briefly talk us through the designing/ideas process…
Well at the beginning I set out projects, 5 ways was a concept that I thought would be exciting to catch peoples attention. And it did, and from that we have established ourselves more as a brand, what things work and what don't. Now collections being worked on are a bit more sophisticated, inspired largely by my love of Australian designers, such as Sass and Bide and Zimmerman. I am very exciting for the next step.
Apart from your own ISWAI boys and girls, who is your favourite designer and why?
Mary Katrantzou. Her designs continue to amaze and she has kept fashion wearable whist still being art. Which is actually really hard to do.
Where do you get your inspiration from?
Cities, Sydney particularly.. A new designer of ours has created a piece inspired by Paris, Lucy Anne Hayes, people, pictures. Anything can inspire an idea. That's the beauty of it really.
We've seen you out about wearing your own pieces a' la Victoria Beckham – are all of the pieces dissected from your own personal style?
Yes very much so, I have had a longstanding love affair with denim. So it's great that we are now doing a lot of that. I like to dress practically day-to-day, but have things that really stand out also.
Would you experiment with pieces you wouldn't necessarily wear yourself?
Yes. I can appreciate that it might not be for me but still like it. You have to adjust to your body shape and look for how you dress yourself, but when it comes to a fashion brand you do have to think about everyone else and cater for them.
What have you got planned for the new season? What can we look forward to seeing?
Silk, pastel, chiffon. Classic shapes and more outfits. We have been working hard on creating a collection that is more sophisticated but still unique – more evening wear that is ready to go, so the hassle of planning out an outfit yourself is taken away.
What are your three current favourite ISWAI pieces and why?
The Paris T. because I haven't seen anything like it and for its eye catching quality. The dungarees, as they are effortlessly cool. And the sequin skirts that make a simple outfit pop. Great for the party season.
What's your tip for dressing for the upcoming party season?
I'm into one colour dressing at the moment, cream can be so chic in winter, a cream/white turtle neck, fur scarf and hat and the ISWAI cream sequin skirt and off white tights with sand boots. Divine!
What's the one accessory or piece of clothing you can't live without?
My Beige fur collared coat. Can't live without it! Especially now it's getting cold.
Where are you spending Christmas?
I think at my aunt and uncles in the countryside. It is so beautiful there that time of year.
And finally, what have you asked Santa for?
A new computer, mine's broken. : (
PS: Caggie's wearing the brand new bear tee in the picture above; it's being exclusively sold at The Clothes Show Live next month, and 10% of the sales will go to the Beat Bullying charity.