Last Updated on 2nd December 2013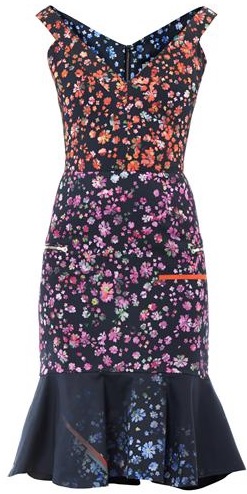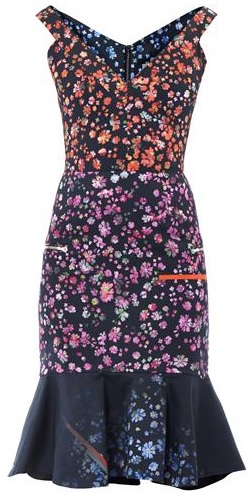 What's an evening dress to be, if it's not an LBD? Well, apart from being a classic turned on its head, said dress needs to elicit the same reaction when you arrive at the party, as a traditional evening look would.
Making us feel like we could effortlessly betray the ease of a noir number is the Preen Morgan forget-me-not print dress (£938). Replacing embellishment with an evening-appropriate bloom, and packing in two of autumn/winter's biggest trends: an off-the-shoulder neckline and fluted hem, the Morgan dress is a winner all round.
So, are you swayed, or still unsure about ditching the trusty LBD for a look-at-me cocktail dress? Let our reasons for saying Yay and Nay to the Preen Morgan dress below help you seal the (dress) deal:
Yay
Great alternative: Warning: The Preen Morgan dress will make you stray from the sticking to evening wear rules.
3-in-1 Trend piece: Effortlessly packing winter florals, a fluted hemline and very now neckline into one nifty dress. Need we ask for more?
Fit: The silhouette-skimming cut of this dress makes it the perfect candidate for complementing feminine curves.
Nay
Price: We can't promise your pocket won't be dealt a rough blow when it comes to forking out £938 for this beauty. But, a beauty it sure is!
One-wear-then-despair: Yes, that dreaded wardrobe situation, where you discard of a dress after one outing? Could the Preen Morgan dress end up in that pile?
Colour: We're all for injecting a much needed dose of print and colour into our weary winter wardrobes, and the dark base colour of this dress has longevity. But, do consider the wear you'll get out of this multi-hued dress before you've splashed the cash on it.
Preen Morgan forget-me-not print dress, £938, available at Matches Fashion.