Last Updated on 9th December 2013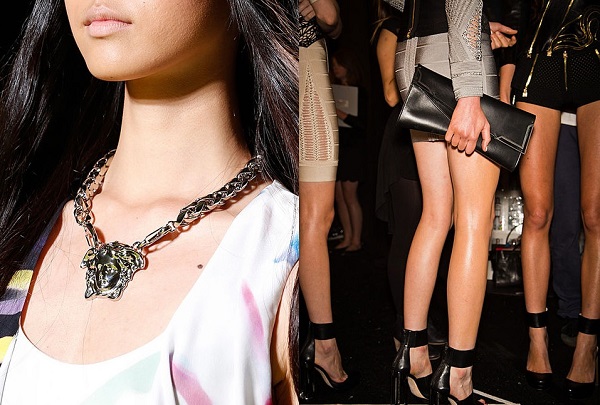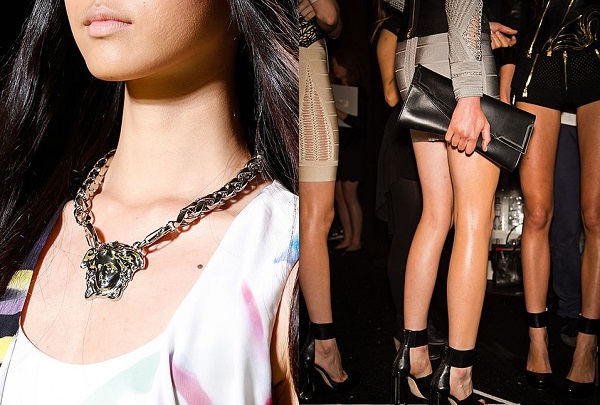 In the fashion world, you've barely entered one season before you're looking ahead to the next. That's why it's best to nail spring fashion this Christmas, so you can be ahead of the game by the time we're looking towards summer! Here are some great gold and silver accessories that you can wear throughout the festive season:
In Greek mythology, Medusa had the ability to turn anyone who looked directly at her to stone. Pretty useful ability, but this silver statement from Versace comes with no such caveats. We love the legendary look of the chain and gorgon head. Become a Grecian Goddess today!
Looks a little painful, but this earring from Viktor & Rolf's the perfect addition to any rebel girl's wardrobe. Match with silver studded shirts to complete the look. It'll definitely get you noticed, if nothing else.
This beautiful, winged statement accessory is from Balenciaga and seems to follow the mythological theme. It looks absolutely gorgeous with an off-the-shoulder top or dress, which shows off its stunning detail.
This reminds us of a Celtic torc (we're sensing a pattern with this year's accessories). Thanks Altuzarra for providing us with this lovely piece. Match gold accessories with a red lip and a white tunic this year for a timeless, glam Roman ensemble.
This clutch from Herve Leger will go superbly with a glitzy silver occasion dress this year, whether that's for the Christmas office party or New Years' Eve. It's large enough to keep all your valuables together, without being too heavy and unwieldy. All you need is a set of pearl necklaces to complete the look.
You need a good pair of shades, even in winter. Seriously, that snow glare when the sun's up – EYE BURN. These 70's inspired glasses are a glitzy way to stop squinting; plus, they're perfect for summer. On the right is a mother of a clutch, again in gold. We love the texture and it goes perfectly with the shades.
Before we move on, can we just draw your attention to this amazing wrist candy? Sure, mixing silver and gold together isn't always the 'done thing,' but this bracelet is absolutely smashing.
For seven quid, it's a bargain. This gold studded bracelet from Pearl and Butler is so in with the lingering fashion trend of spiky items. It's like the punk age never truly died!
We adore this boho head piece. We've gone for gold, but you could get something similar in silver, if you think it would suit your complexion better. It goes with a whole range of outfits, but especially 1920's chic. And after the Great Gatsby, who won't be throwing on their flapper dresses this year for a NY party?